Archdiocesan parish launches own radio station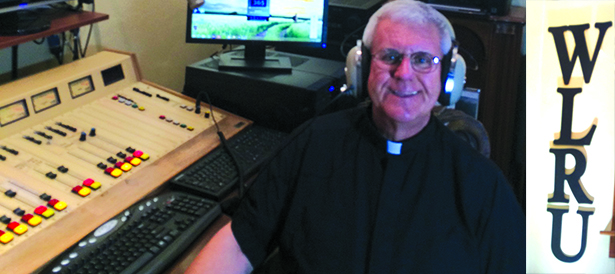 By John Stegeman
The Catholic Telegraph  
Most parishes communicate to the faithful via bulletins and post-Mass announcements from the pulpit. St. Mary parish in Hillsboro dreams bigger.
In December, the St. Mary Catholic Broadcasting System went live with radio station WLRU on 106.9 FM in Hillsboro. WLRU is a low power FM (LPFM) station licensed by the Federal Communications Commision. LPFM stations, usually run by non-profits, broadcast with relatively low power and are commercial free.
Across the country and in Ohio several churches took advantage of a 2013 opportunity by the FCC to get LPFMs. Father Mike Paraniuk, pastor of St. Mary, said WLRU is the only one in the Archdiocese of Cincinnati.
"We are the only, and first, parish in the entire diocese to have their own radio station," he said. "The studio is right in my rectory."
Broadcasting with just 100 watts, the typical range of a LPFM is roughly seven miles in diameter but WLRU stretches much further.
"We're hitting not only all of Highland, but Ross, Clinton, Fayette and Brown counties and into Adams County," Father Paraniuk said. "You don't need much power if you're up high. If you take a 150 watt bulb, that has more power than our transmitter. We're only up 100 feet on a telephone pole, that's all the FCC allows. But we're so high on that hill, it is really getting out there."
According to Father Paraniuk, WLRU is reaching a diameter closer to 40 miles with a potential listening audience of more than 50,000.
The pastor isn't new to radio, having worked at WOBO 88.7 FM in Batavia from 1982 until 2005. He also isn't the only radio expert in his parish.
Father Paraniuk said the station wouldn't be possible without the work of LaRue Turner, a radio engineer who donated his time and talents to get WLRU running. The station's call letters came about in part because of a reluctant Turner.
After working so hard on the station, Father Paraniuk suggested calling the station WLRU to honor Turner's first name, LaRue. Turner however didn't want the station named after him.
Father Paraniuk submitted 20 call signs total to the FCC, only jokingly adding WLRU. The FCC approved. The priest didn't want to upset Turner, and believes the Lord intervened.
"I had a dream," he said. "In the dream I saw the call letters WLRU. Underneath, the slogan appeared. 'Where the Lord is right for you.'"
Father Paraniuk called Turner, told him about the dream and got his blessing to keep the name.
WLRU has broadcast a limited schedule of local programing thus far, including a rosary and Mass. Plans are in the works for a news-style call in show where Father Paraniuk will host pastors of other Christian communities in the area to build ecumenical goodwill. Then there's the Father Paraniuk-hosted Saturday Night Polka Party.
"I play polka, because I'm Polish," he said. "I always said and told the people, if we get this station, I'm doing a polka show for you. We don't always have to be about religion. We can have a little fun."
With only a limited supply of local programming and 24 hours to fill a day, WLRU became affiliated with CatholicTV for the rest of its content. CatholicTV is an apostate of the Archdiocese of Boston under Cardinal Archbishop Sean O'Malley. It is the oldest Catholic television station in the U.S. and WLRU is the first radio station to carry its programming full time.
"We've been growing into other areas as television station," said Bonnie Rodgers, Director of Marketing and Programming for CatholicTV. "There's certainly some things that don't translate well (to radio), but most programming does… We offer our programming free of charge to carriers."
When CatholicTV's programming doesn't work for the radio format, the station plays Catholic music or southern Gospel. Southern Gospel is popular in WLRU's broadcast zone, which Father Paraniuk described as an area rife with misunderstandings about Catholicism.
"Evangelizing and ecumenism. That's the two main goals of the station," he said. "And to let people know that Catholics are Christians and that we accept Jesus as our personal Lord and savior like anyone else…
"Some use LPFMs as hobbies, but this is a real ministerial tool," he added. "I've always seen it that was as a ministry to reach out to other churches and provide Catholic teaching. Instead of letting others define us, we can define ourselves."
WLRU does not currently simulcast online, though the station does use internet instead of satellite to broadcast. While Father Paraniuk said he's received $30,000 in donations for the station, including $1,400 from CatholicTV for equipment, broadcasting just over the airwaves is affordable. He said after initial setup, running the station should cost only $200 a month.
While one has to be in the range of WLRU to listen to the local shows, CatholicTV's programming is available for free online at CatholicTV.com. CatholicTV is celebrating its 60th anniversary this year and Rodgers said the network's mission matches up well with that of WLRU.
"You can never go wrong when you let people understand your point of view, and for people to understand our Catholic perspective," she said. "For Catholic TV, we operate under the auspices of the Cardinal Archbishop of Boston. We're 100 percent Catholic."
For Father Paraniuk, who is also pastor of St. Benignus in Greenfield, WLRU has already born fruits in the parish's response.
"It has really brought some people together for these broadcasts," he said. "When we do the live radio rosary and the Mass, when we broadcast on the air there's an excitement in the air…Even some of the talking in the back of church has lessened."
This story originally appeared in the March 2015 print edition of The Catholic Telegraph.