Around the Archdiocese: Dec. 16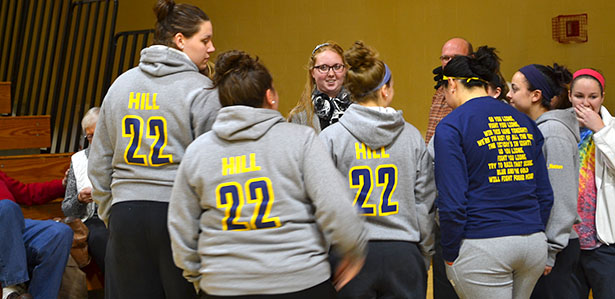 Staff Report
Below are news and notes from Around the Archdiocese of Cincinnati.
ESPN, V Foundation, announce grant in honor of Lauren Hill
The V Foundation for Cancer Research, one of the nation's leading cancer research funding organizations, and ESPN announced a grant of $100,000 to fund pediatric brain cancer research in honor of Lauren Hill, the Mount St. Joseph University women's basketball student-athlete who has shared her fight against terminal cancer with the world.  The donation was presented by ESPN and The V Foundation during the Jimmy V Women's Basketball Classic Presented Dec. 6, 2014.
Hill recently participated in her first true home game, scoring two points in a 68-56 loss to Franklin College Dec. 13 at The Mount.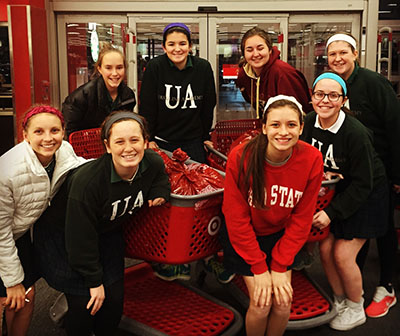 Ursuline students donate to Hope Emergency Program
The Ursuline Academy Community Service department announced Dec. 7 that through efforts during their Christmas Project, 745 Christmas gifts will be donated to Hope Emergency Program in Brown County, Ohio, marking a 30 percent increase from the 2013 Christmas Project.
Hope Emergency Program is a social service outreach program that provides food, clothing, and household items to families in Adams, Brown, Clinton, and Highland counties. Hope Emergency was started in 1975 by the Ursuline Sisters of Brown County, the order that founded Ursuline Academy in 1896. The program serves an average of 250 families a week, and during December, opens a Christmas Shop to provide gifts to the families that they serve throughout the year. In addition to providing the gifts, 16 students will visit Hope Emergency to assist in setting up and working at the Christmas Shop.
Ursuline partners with Hope Emergency throughout the year. Hope Emergency receives an average of 7,000 pounds of canned and non-perishable food from Ursuline's canned food drive in the spring, and they also receive 20 Birthday Boxes that are provided by Ursuline's freshman class. The Christmas Project leader was Zoe Kraemer of Silverton, and the class leaders were Ellie Jordan, Caroline Weisgerber, Haya Akbik, Colleen Ray, Emily Allen, Haidyn Isenhart, Julia Gallenstein, Caroline Hogan, and Nicole Murphy.
The Christmas Project is a week-long effort that includes a toy and gift drive, along with several fundraisers, including a cookie raffle, selfies with Santa, and candy-grams. The money from these fundraisers is then used to purchase toys and gifts, in addition to those brought in through the gift drive.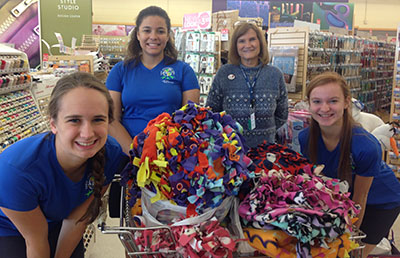 Lehman teens make blankets for children
The inaugural Teen Leadership Corps (TLC) class created nearly fifty blankets for Project Linus. The mission of Project Linus is provide love, a sense of security, warmth and comfort to children who are seriously ill, traumatized, or otherwise in need through the gifts of new, handmade blankets and afghans, lovingly created by volunteer "blanketeers."
Student "blanketeers" purchased the fabric and handmade the blankets that were delivered to Hancock Fabrics in Kettering by a group of TLC members. All of the blankets go to local hospitals for children in Allen, Auglaize, Darke, Mercer, Miami, Montgomery, Preble, Shelby and Van Wert Counties.
Students utilized their leadership skills to determine the giving project, design the project plan, implement and then finalize the project through delivery.  Melissa Safreed, TLC instructor, noted that giving back to their local communities was of great importance to the students involved in the leadership class.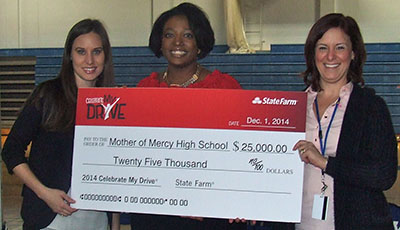 Mercy HS wins 25k in social media contest
Mother of Mercy High School is one of 100 winning high schools, earning a $25,000 grant from Celebrate My Drive, powered by State Farm.
They were among 3,283 registered high schools who participated in this year's program. Students, parents, administrators and the entire community rallied in support of teen drivers, making online safe driving commitments, helping the Bobcats reach their goal.
"State Farm is proud of Mother of Mercy's efforts to generate excitement among students, faculty and the entire community to make safe driving commitments and have positive conversations about teen driver safety," said local State Farm Agent Leah Brantley. "We appreciate all of the wonderful support of the program to help reduce teen crashes and save lives."Mother of Mercy is required to invest 10 percent of the grant award on a teen driver safety program for students. They plan to use the remaining funds on possible facility upgrades to the school's main entrance.
"We are very proud of our Mercy community and we are excited to have this opportunity to educate our students about the importance of being safe behind the wheel," said Mercy principal Karen White. "We could not have accomplished this without the enthusiasm of our Mercy students and families."
State Farm presented the $25,000 check to Mother of Mercy at a suprise assembly Monday, December 1.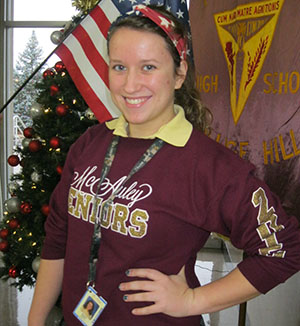 McAuley student gets congressional nomination to West Point
McAuley High School senior Monica Bartler has received a nomination for West Point Academy from Congressman Steve Chabot (R-Ohio).
Bartler submitted an application, and then moved on to the interview phase of the process. She met with a panel of teachers, military personnel and veterans.
Bartler, who has wanted to serve in the military and, in particular, graduate from West Point for several years now, will learn in February if she will receive a West Point appointment.
She is the daughter of Tomasz and Beata Bartler of Colerain Township, and an alumna of St. Ignatius School.
Cincinnati Metropolitan Orchestra to accompany St. William Choir
St. William Church will present its annual Festival of Carols on Christmas Eve, December 24. The hour long service, under the leadership of Dave Allen, will feature the St. William Choir, accompanied by an ensemble from the Cincinnati Metropolitan Orchestra.
All are invited to enjoy an hour of sacred music with traditional carols, orchestral and choral selections in a beautifully decorated church setting. The Festival of Carols begins at 11:00 p.m. (doors open at 10:30 p.m.) and will be followed by Midnight Mass.
Around the Archdiocese is compiled from press releases and other submissions sent to The Catholic Telegraph.
Posted Dec. 16, 2014