Around the Archdiocese: November 12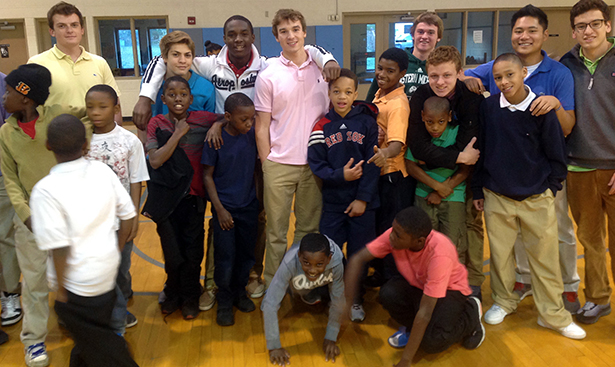 Staff Report
Below are news and notes from around the Archdiocese of Cincinnati.
St. Xavier mentoring program wins award
St. Xavier High School's Big Buddies project, which involves nearly 100 students in providing positive male role models and emphasizing the importance of education to underserved boys at area Boys & Girls Clubs, is the winner of 4C for Children's fourth annual Champions for Children: the Next Generation Award.
During the 2013-14 school year, seven student-led volunteer teams visited five Boys & Girls Clubs on a bi-weekly basis in Avondale, Lower Price Hill, Northside, Over the Rhine and the Villages at Roll Hill. Each St. Xavier student was paired with a "little buddy" in kindergarten through sixth grade that the Club determined would benefit from a positive relationship with an older male.
Carroll HS Drama Club seeking bicycle donations
The Carroll High School Drama Club will be accepting used bicycles to donate to the Life Enrichment Center Earn a Bike Program.  Donors will receive a free ticket to the Nov. 14 or Nov. 15 performance of "The Boarding House Reach."
Produced by special arrangement with Heuer Publishing LLC of Cedar Rapids, Iowa and written by Donald Payton, this comedy tells the tale of the Maxwell family and their well-meaning but troublesome son Lucas.  Mom and Dad leave for an out of town business trip leaving Lucas and his sisters home.  Enterprising Lucas takes this opportunity to rent out the house to a comical cast of characters to earn enough money to buy himself a bicycle.  Mom and Dad come home early and chaos ensues.
The performances are Nov. 14 at 8 p.m., Nov. 15 at 8 p.m. and Nov. 15 at 2 p.m. Tickets and more information are available at www.carrollhs.org/boardinghousereach.
Badin canned food drive underway
Badin High School's annual Canned Food Drive is taking place now through Nov. 18.
With some 530 students at Badin for the 2014-15 school year, Student Council's goal of 10 canned goods per student would lead to some 5,300 non-perishable food items going to St. Raphael's food pantry in Hamilton.
Badin students will be canvassing neighborhoods in Hamilton and Fairfield asking for public support. Anyone wishing to donate canned goods can also drop them off at Badin during school hours.
National Pilgrim Virgin Statue coming to Norwood
The National Pilgrim Virgin Statue will be visiting Our Lady of the Holy Spirit Center, in Norwood Nov. 15. The statue arrives at will be present from 10 a.m. to 8 p.m. Bill Sockey, custodian of the statue, will also be present.
The statue was blessed by His Holiness Pope Paul VI and given to the United States by the Bishop of Fatima in 1967.
Posted Nov. 12, 2014