Throwback Thursday: Trains before planes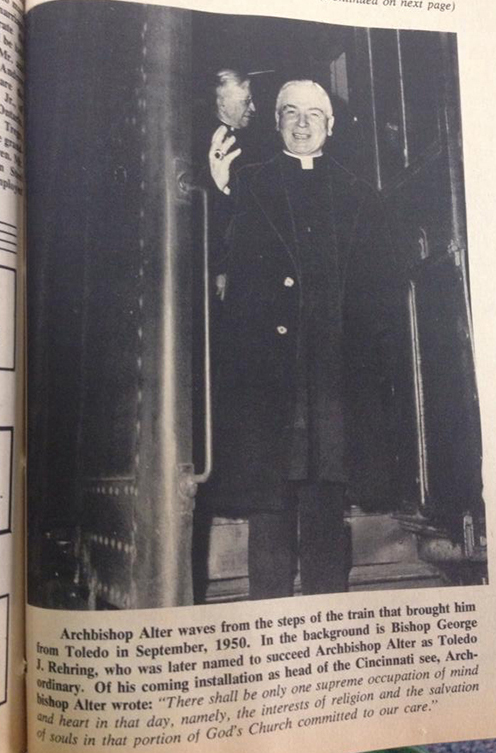 Staff Report
One characteristic in the life of a priest is that one goes where they are sent. The same is true even for bishops who are appointed to their posts by the Holy Father in Rome. Nowadays national and international travel are common and relatively quick thanks to the airplane, but prior to that bishops, priests any everyone else went long distances by train.
In September of 1950 Archbishop-elect Karl Alter, previously the Bishop of Toledo, arrived in Cincinnati via train. As far as the Throwback Thursday Research Team can tell, Archbishop Alter was the last archbishop of Cincinnati to arrive in the archdiocese by railroad.
Archbishop Paul F. Leibold arrived from Evansville via jet plane. Cardinal Joseph L. Bernardin also made his arrival in Cincinnati via flight. Archbishop Emeritus Daniel E. Pilarcyzk was born in the Archdiocese of Cincinnati.
On a tight deadline, the CT was unable to discover whether current Archbishop Dennis M. Schnurr arrived via plane or automobile, but Communications Director for the archdiocese Dan Andriacco confirmed that it "almost certainly wasn't by train."
Accompanying this post is a photograph of Archbishop Alter waving from the steps of the train upon his arrival. The caption quotes a statement by Archbishop Alter upon his arrival concerning his coming installation as archbishop.
"There shall be only one supreme occupation of mind and heart in that day, namely, the interests of religion and the salvation of souls in that portion of God's Church committed to our care."
Also of note, Bishop George J. Rehring, who would later succeed Archbishop Alter in Toledo, is pictured in the background.
Welcome to The Catholic Telegraph's edition of Throwback Thursday. Throwback Thursday is a weekly online activity wherein users of social media share an old photo or anecdote about times gone by. We use Throwback Thursday to highlight the history of the Archdiocese of Cincinnati, and our publication.
Previous Throwback Thursdays
Carroll HS founded, honoring first American bishop
Halloween a mixture of different traditions
Four area bishops installed in 1945
Habemus John Paul II
The death of a Pope
Guardian Angels artist was spot on
Catholic prep football in the CT
Archbishop Bernadin makes the Tribune
Sept. 11, 2001
Computers all the rage in 1983
English permitted in some rituals
Posted Nov. 14, 2014