Divorce ministry reaches out to help Catholics heal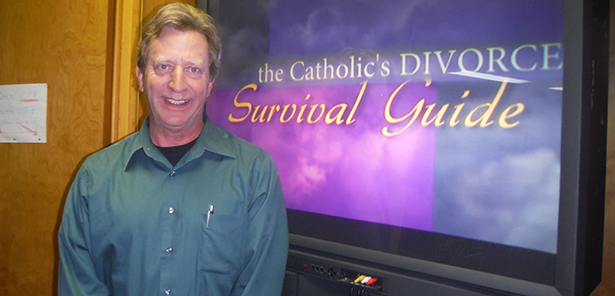 By Walt Schaefer
For The Catholic Telegraph 
Divorce devastates people and Catholics are particularly affected.
About 18 years, ago Tom Fagan, a member of Emmanuel Parish in Dayton, experienced divorce "and, at that time, there was nothing out there to help me" through those difficult days.
Today, thanks to Fagan and Noreen Wendeln of the Archdiocese of Cincinnati's Family and Respect Life Office, there is a program succeeding in assisting divorced Catholics through the experience. The program is called Catholic Divorce Healing. The 12-week sessions utilize The Catholic's Divorce Survival Guide created by well-known Catholic author, Rose Sweet, of Arizona.
"The main thing I tell people," Fagan said, "is we give you the technique in healing… through the church. You learn what the church truly teaches through the sacraments, not what people think it teaches. We have had people who have not been to confession in 20 or 30 years because they are afraid of it.
"We get peopled to confession and, once they experience…the healing power of the Sacrament of Reconciliation they come back with so much weight lifted off their shoulders. They have had it bottled up for so many years," Fagan said.
Father Tom Shearer, a cousin of Fagan, and pastor of St. Henry Parish in Springboro, has funded the program at Emmanuel. It is open to all Catholics of the archdiocese. Similar programs exist in many other dioceses in the United States and other programs locally exist at St. Michael Parish in Fort Loramie and St. Maximilian Kolbe Parish in West Chester. Cost is $25 for materials. For best results, enrollees are encouraged to attend the program twice at no additional cost.
"Another thing I stress is spending time in adoration. It's what saved me… from going off the deep end. Once I get people in front of Christ, he does the rest," Fagan said.
Author Rose Sweet explains: "Some people have been chastised, neglected or deeply wounded by someone in the Catholic Church and, as a result, they harbor this mistrust. Some have even left the church. But, this program shows that the church is not there to condemn, but to counsel and to help you and your family find peace, power and new passion for life."
Wendeln said: "I really want people to know, as a person who is also divorced, that while divorce is a very devastating experience riddled with enormous guilt and pain; and that in the church we feel a very pronounced 'stigma' when you're a divorced member.  It doesn't have to be that way.
"There is healing in the Catholic Church.  This program helps participants see this truth and to actively seek the healing that they deserve and need.  Our Catholic faith is embedded with beautiful wonders and the healing that takes place here is real and it's amazing and it's humbling.  I sincerely pray that more members take advantage of this program."
The program ends with a session on annulment. "We lay the groundwork on getting the person to go forward with their annulment." Fagan said.  "Someone comes in at the end of our 12-week program and conducts an all-day session strictly on getting an annulment," Fagan said.
For additional information, click HERE.
This story originally appeared in the November 2014 print edition of The Catholic Telegraph.