Badin's David Berg named National Merit Scholarship finalist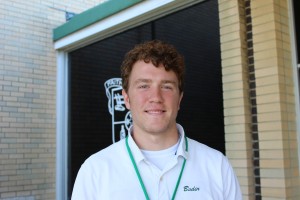 Badin High School senior David Berg has been named a National Merit Scholarship finalist.
"I'm happy," smiled Berg. "It's a relief. I've been waiting to find out since September … it's good to know."
Berg, the son of David and Cecelia Berg of Oxford, was one of 16,000 semifinalists named in the fall based on his performance on the 2015 Preliminary SAT/National Merit Scholarship Qualifying Test (PSAT/NMSQT) taken as a junior. Of those 16,000 semifinalists, 90 percent advance to become finalists. The semifinalists represented the top 1 percent of U.S. high school students in terms of their PSAT scores.
"This is well-deserved recognition for David," said Angie Bucheit, Berg's guidance counselor at Badin. "It's an elite group, and David is certainly an elite student."
Some 7,500 National Merit Scholarships will be awarded in various amounts to finalists beginning in March, with a total value of $33 million. This is the 62nd year that National Merit Scholarships have been awarded.
"Being a National Merit Scholarship finalist is one of the premier accomplishments of high school academic success," BHS Principal Brian Pendergest said. "David has had an excellent career at Badin, with great opportunities ahead of him."
Berg, who also scored a perfect 36 on his ACT college entrance test, is planning to major in science or economics in college. He has been admitted to the University of Notre Dame, among other schools, but notes that he is still waiting to hear from Stanford University and several Ivy League schools before making up his mind.
"This is nice (recognition)," said Berg, a graduate of Queen of Peace School. "It's nice to have the opportunity to earn various college scholarships and it definitely helps with college admissions."