Bill Burleigh honored as Catholic journalist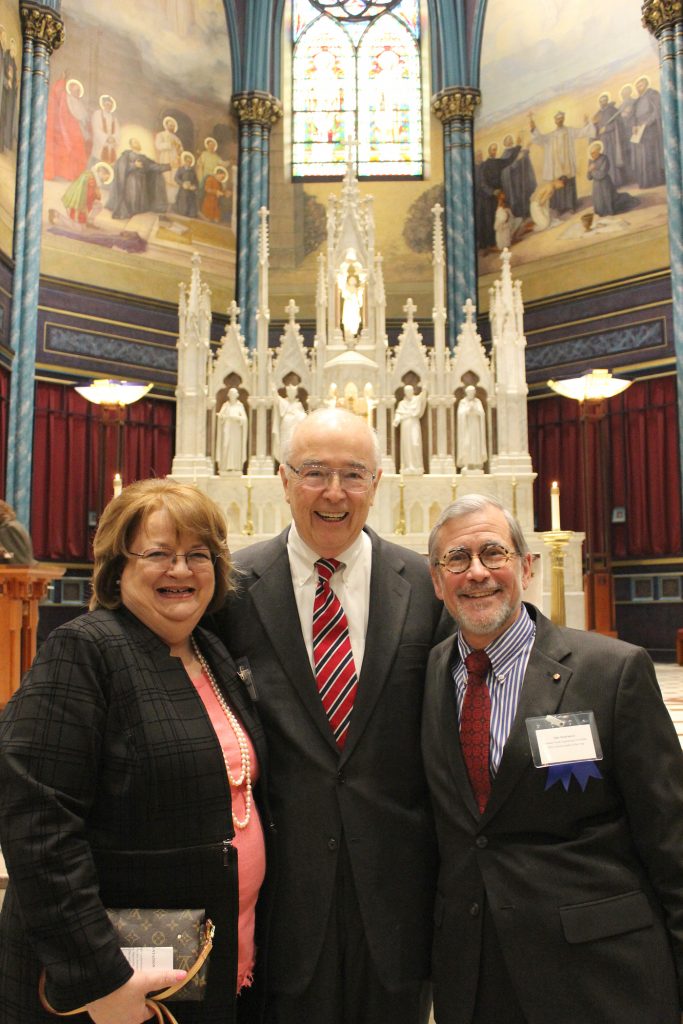 Editor, CEO, area civic leader receives lifetime achievement award
By Walt Schaefer
William R. Burleigh, one of Cincinnati's most esteemed journalists, was honored in February with the Salesian Guild's Lifetime Achievement Award during the Catholic  organization's annual meeting. 
     Burleigh served a chief executive officer, president and chairman of the E. W. Scripps Company and was editor of "The Cincinnati Post" and Indiana's "Evansville Press."
      "I think there's something special" in the award, Burleigh said. "It's bringing together two things that I have always loved – journalism and church. They have always been, from the very beginning, dear to my heart.
     "Journalism has always been in my blood. I started in the newsroom when I was almost 15 as a part-time sports reporter in Evansville. And my Catholic faith has always meant a great deal to me. I could not imagine my life without the church."
      The Salesian Guild, named for patron saint of writers St. Francis de Sales, brings Catholic communicators in Greater Cincinnati and Northern Kentucky once a year.
     The Guild has honored a Communicator of the Year since 1994. The 2018 honoree is author, speaker, and "Telegraph" columnist Jeanne Hunt. This year, for only the third time in its 74-year history, the Guild presented a Lifetime Achievement Award. 
     "Among his many contributions in journalism, Bill was the editor of two newspapers," said Dan Andriacco, former "Cincinnati Post" business editor and recently retired communications director for the archdiocese. "He was Scripps CEO and board chair, chairman of the American Press Institute, a director of the Associated Press, chairman of the Ethics and Public Policy Center in Washington, D.C., and a Pulitzer Prize juror. 
     "Named a Great Living Cincinnatian for his contributions to our community and recognized as a leader in many Catholic organizations, Bill always had service to others as his guiding principle."  
     In his acceptance remarks, Burleigh, a Marquette University alumnus, noted that the meeting was held at the St. Francis Xavier Parish. Both are run by the Jesuits.
     "I was recalling some foundational things that we were taught in journalism at Marquette that seem to be so germane to today's world," he said. "One is that we took a class in the ethics of journalism. It was built on the teachings of Thomas Aquinas, and we learned the definition of news as information people need to lead better lives. The university was celebrating something, and the slogan was: 'The Pursuit of Truth to Make Men Free.'
     "I took those things and applied them to today. Where's ethics? Much of what passes for 'fake news' is meant to titillate, not to better lives. And, about this concept that we are searching for truth to make men free, I believe there is an objective truth that journalists are supposed to pursue, not just to go out and interview one side or another side and think you've discharged your duty."
     Burleigh and his wife Anne attend both St. Gertrude Parish in Madeira and All Saints Church in Walton, Ky.. They have three children and several grandchildren. He retired as Scripps CEO in 2000, but remained chairman of the company's board of directors until 2009. In addition to being  inducted into the Indiana and Cincinnati Journalism Halls of Fame, Burleigh was Marquette's Alumnus of the Year in 1998. 
     In 2000, the Scripps Howard Foundation endowed $1 million to establish the William R. Burleigh and E. W. Scripps Professorship and the William R. Burleigh Media Ethics Program at Marquette. The endowment's purpose is to strengthen the study and practice of ethics in the communications industry.