Bishop Fenwick High School's New Principal Starts Today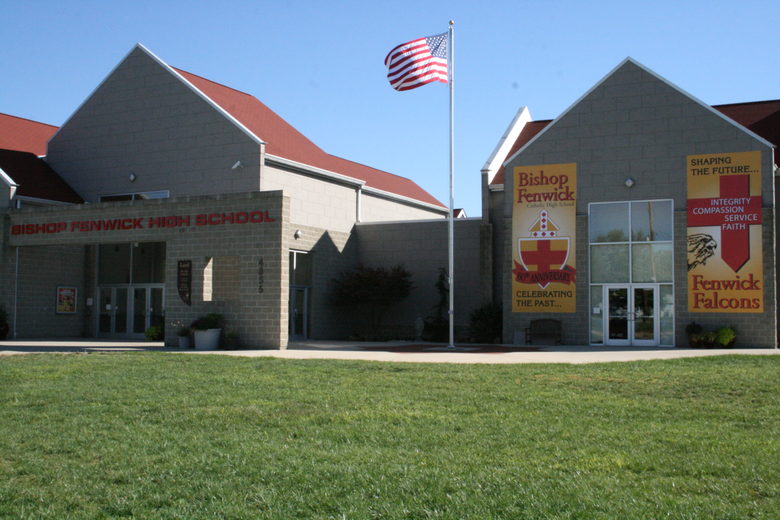 Cincinnati, OH: While students are enjoying their summer vacation, Blane Collison is preparing to take up his new duties as Principal/CEO of Bishop Fenwick High School on July 10, 2017.
"Fenwick has a proud tradition of forming students in faith, knowledge and service," states incoming Principal Collison, "I look forward to continuing to build on the rich history of the school's success, and working with faculty and staff to strengthen every aspect of a Fenwick education for the benefit of every student."
Collison has 23 years of experience in Catholic education. Most recently, he was Principal of Archbishop Moeller High School in Cincinnati for 14 years. Cincinnati Archbishop Dennis M. Schnurr appointed him Principal/CEO of Bishop Fenwick in April upon the recommendation of the schools Board. He succeeds Andrew Barczak, who announced his departure earlier in the year.
At the recent 65th Annual Fenwick Festival, Collison was introduced to the community and had the opportunity to network with his new Fenwick family. Collison's dynamic leadership will be a breath of fresh air for the school that has been in limbo since the resignation of their previous Principal.
"This will be my fourteenth year at Fenwick High School. The school and community are in good shape, with great momentum moving forward," Bishop Fenwick Assistant Principal, Jason Umberg says, "In the short time I have gotten to know Blane, I look forward to working at his side as we continue to make Bishop Fenwick High School the pinnacle of student growth–Spiritual and Academic."
Bishop Fenwick is gearing up for positive changes and opportunities to establish their mission of Catholic education with the help of Collison. While he has a lot on his plate at the start, the Fenwick community and the Archdiocese of Cincinnati are confident in Collison's ability to steer the school to further success.
---
About the Archdiocese of Cincinnati: The Roman Catholic Archdiocese of Cincinnati is the 38th largest Catholic diocese in the country, with almost 500,000 Catholics, and has the sixth largest network of Catholic schools in terms of enrollment. The 19-county territory includes 211 parishes and 111 Catholic primary and secondary schools.
About Bishop Fenwick High School: Bishop Fenwick High School is a Catholic educational community based on love, trust, respect, and commitment to gospel values rooted in Catholic teaching. In partnership with parents, Bishop Fenwick is quality faculty and staff provide superior education, enabling students of all cultures and abilities to reach their full potential. Bishop Fenwick was established in Middletown, Ohio in 1952 and is now located in neighboring Franklin, Ohio on a new 60-acre campus.