Obituary: Rev. Glen Perin pastor and educator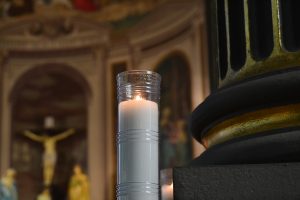 Rev. Glen W. Perin passed away on Wednesday, July 5, at St. Charles Center, Carthagena.
He was born on January 15, 1928 in Newport, Ohio. He did his preparatory studies at St. Gregory Seminary and studied theology at Mount St. Mary's Seminary of the West in Norwood. He was ordained on May 30, 1953 at St. Monica Cathedral in Cincinnati by Archbishop Karl J. Alter.
Fr. Perin received his first assignment on June 22, 1953 as Assistant Pastor at Our Lady of Lourdes Church, Cincinnati. He was appointed Assistant Pastor at St. Raphael Church, Springfield, on June 17, 1954, and then the additional position of part-time teacher at Springfield Catholic High School on June 20, 1958.
On August 29, 1963, he was appointed Assistant Pastor at Nativity Church, Cincinnati, and part-time teacher at Regina High School where he remained teaching until June 1966. He was appointed Assistant Pastor at St. Jude Church, Bridgetown, on June 16, 1967, and in August of that year to the additional position of part-time teacher of Religion at Seton High School. On June 21, 1968, he was relieved of his assignment at St. Jude Church to make necessary preparations for missionary work in South America. He provided weekend help during that summer at St. Louis Church, downtown Cincinnati.
In August 1968, Fr. Perin left for mission work in Brazil. He continued his work there until on June 15, 1976, he was appointed Associate pro-tem at St. Albert the Great Church, Dayton. Fr. Perin was appointed Pastor of Holy Trinity Church, Coldwater, on August 28, 1976. In that position, he was appointed Dean of St. Marys Deanery from July 1, 1983 to December 31, 1986. On August 24, 1987, he was appointed Pastor of Holy Angels Church, Sidney, and re-appointed to another six-year term on August 24, 1993. Fr. Perin retired on July 6, 1999.
Reception of the body will take place at 8:30 a.m. Tuesday, July 11, at Sts. Peter and Paul Church, 6788 St. Rt. 66, Ft. Loramie, Ohio. Visitation will continue until Mass of Christian Burial at 10:30 a.m. Most Reverend Joseph R. Binzer, Auxiliary Bishop of Cincinnati, will preside and Rev. David L. Zink will preach. Burial will follow immediately in the cemetery next to the church.