Book Review: With All her Mind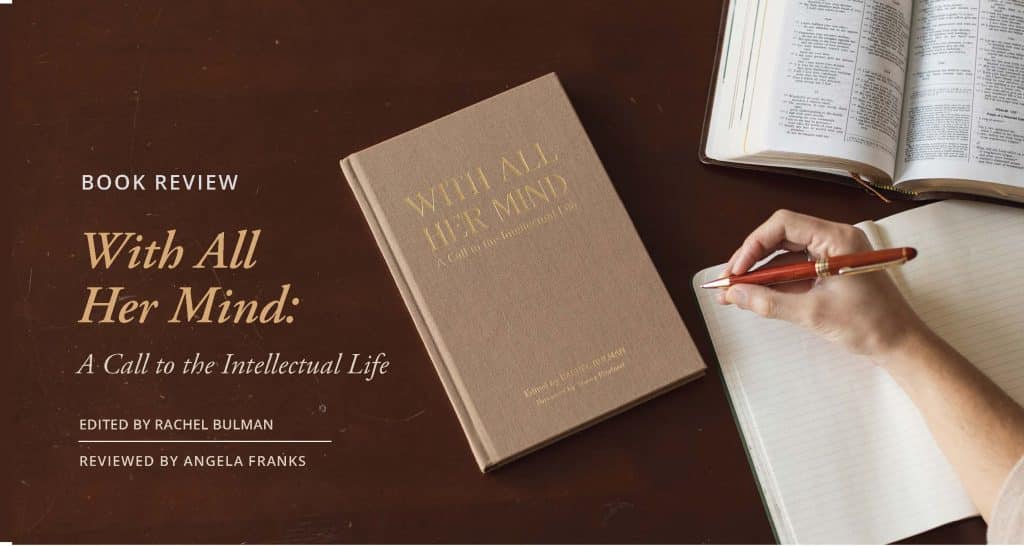 When I homeschooled my children, I came across proposals for curricula that indicated boys could pursue ideas (abstract thinking, maybe STEM and carpentry), while girls should only be trained up for domestic roles (the domestic arts and devotional religion). I always asked myself: Don't women have minds too, and shouldn't they be formed?
Rachel Bulman's winsome collection of essays, With All Her Mind, contains contributions from women of varied intellectual disciplines and underscores women's right and duty to be intellectually formed, which is part of being fully human.
Sister Josephine Garrett and Susanna Spencer connect the intellectual life to its foundation in silence, prayer and virtue. Sister Miriam James Heidland argues that healing is necessary before we can allow the truth to penetrate to our depths. Meg Hunter-Kilmer shows what the intellectual life looked like in the lives of two holy women: St. Edith Stein and Bl. Concepción Cabrera de Armida.
Rachel Harkins Ullman takes to task the frequently anti- woman policies of Catholic institutions by calling women in the Church to show holy boldness in living out the Christian life. Jackie Francois Angel exhorts all women, academically inclined or not, to form their intellectual life in the pursuit of feminine genius. Haley Stewart's essay centers on how and why we should find time to read daily. Tsh Oxenreider tells the story of her reawakening to the intellectual life through writing. Stephanie Gray Connors and Leah Libresco Sargeant explore how to cultivate the life of the mind, even within the drudgery of daily life. Amanda Achtman explores the life of the intellect in one young adult woman, while Emily Stimpson Chapman's memoir extends it through a woman's middle age. The darker history of women's intellects being subordinated to men's is not treated frequently, but Sister Theresa Aletheia Noble touches on it, as well as the mindsets (such as Enlightenment dualism) that underlie it. "The world needs who we are as women," she writes. "It needs our emotional integration, which refines our intellectual contributions."
More specialized topics are taken up by Elizabeth Scalia (Benedictine spirituality) and Jennifer Frey (leisure). Both authors point us away from "workism" and toward contemplation. Mary is revered "not as a domestic manager, but as a model of the contemplative life," Frey writes. Holly Ordway discusses living the life of the mind professionally in academia, with its advantages and disadvantages. I found this essay especially resonant.
Taken as a whole, this slim volume strips away excuses for picking up a phone rather than a book, while also being sympathetic to the challenges facing a woman who is a single person, wife, mother, wage-earner, or combination of these roles. Men and women alike should peruse it, then give to women in their lives.
A mother of six, Angela Franks is a systematic theologian at St. John's Seminary in Boston.
With All Her Mind: A Call to the Intellectual Life, edited by Rachel Bulman; Word On Fire (2022); $24.95
This article appeared in the April 2023 edition of The Catholic Telegraph Magazine. For your complimentary subscription, click here.