By virtue of Baptism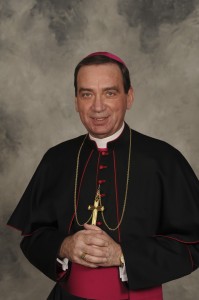 Dear Missionary Disciples,
As our Holy Father was initiating the Holy Year of Mercy, he explained that the Church must "keep alive the desire to know how to welcome the numerous signs of the tenderness which God offers to the whole world and, above all, to those who suffer, who are alone and abandoned, without hope of being pardoned or feeling the Father's love."
While not all are called for direct mission service, Pope Francis reminds us that we all must do our part since, "by virtue of their baptism, all the members of the People of God have become missionary disciples. All the baptized, whatever their position in the Church or their level of instruction in the faith, are agents of evangelization." I am grateful to all of the long and short term missionaries from our archdiocese who have responded to the Holy Father and who continue to be instruments of God's mercy, locally and globally.
One way to do your part is to donate at your parish to the Holy Father's Pontifical Mission Societies on World Mission Sunday, October 23. Your financial sacrifice enables more than 1,100 mission dioceses, mostly in Africa and Asia, to make God's mercy real. In helping to eliminate the causes of war, poverty, and hopelessness, our donations help these mission dioceses to promote the values that Jesus came to share with us all: compassion, justice, reconciliation, love, solidarity and of course, mercy.
Your World Mission Sunday gift may be used to buy Bibles for catechists in Sierra Leone, or provide for a small parish in India. Your offering may be used to help Sisters in Sudan lovingly care for orphans in Jesus' name, or it may buy a bicycle for a priest in Thailand so that he can travel from village to village to celebrate Mass.
I also invite you to participate a special World Mission Sunday Mass and social event on October 23 at St. Benedict the Moor Church in Dayton at 3:00 P.M. Catholics of many different cultures will be celebrating our accomplishments during the Year of Mercy. Also consider attending some or all of the United States Catholic Mission Association national conference coming to Cincinnati on October 28-30. For more information about these events, go to our Mission Office website at: www.catholiccincinnati.org/mission
Lastly, I encourage you to contact the Archdiocesan Mission Office for further information about joining a consecrated missionary order or a lay missionary organization. You may also ask them about parish partnerships/twinning, mission trips, how to become regular mission supporter, and how add the Mission Office to your will at [email protected] or at (513) 421-3131 x.2630.
Sincerely yours in Christ,
Most Reverend Dennis M Schnurr
Archbishop of Cincinnati