Catholic in Recovery Traveling the Road to Healing and Salvation
By Rebecca Sontag
For Us Men and Our Salvation
Rock bottom" sometimes comes halfway up a towering mountain under a wide-open blue sky in Wyoming. That's where Jill Bischoff was when she pulled her car over to the side of the road that late-Friday afternoon in 1996. She had heard God before but this time was different. The message was loud and clear; it was a command, not a discussion. Under that immense expanse of blue, Bischoff was made to realize – with absolute certainty – that if she didn't completely give up drinking right then and there, she would end up in jail, institutionalized or dead. Bischoff turned her car around and drove back down to the valley below. She would never cash a paycheck to buy beer ever again.
Nearly 23 years of sobriety later, Bischoff's life was made new. She became a nurse and has since retired. She married her husband, Irvin, and officially entered the Catholic Church in 2014 after being confirmed. Alcoholics Anonymous was a vital component of her healing and new life in Christ. But as her appreciation for the vast richness of the beauty and truth of the Catholic Church grew, she felt ever more limited by the generic "higher power" language of AA. At meetings, she wanted to talk about the Eucharist, Mary and God with others. Bischoff's life was transformed by Jesus Christ, and she wanted to share that with others.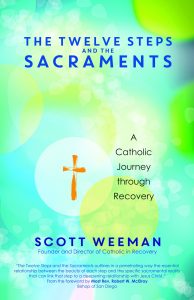 Through Him All Things Were Made
Scott Weeman, founder of Catholic in Recovery, understood. He, like Bischoff, benefitted greatly from the 12 steps of AA in battling addiction. For both of them, the road to recovery led ever nearer to Christ and the Church. Weeman, too, was confirmed in the Catholic Church as an adult and, like Bischoff, was committed to using the spiritual gifts given to him in loving service to the Lord. For Weeman, this meant writing The Twelve Steps and the Sacraments: A Catholic Journey through Recovery, and developing the Catholic in Recovery ministry (available to parishes nationwide).
Addiction resides alongside shame, despair, hurt and anger. Catholic in Recovery seeks to lead the whole person – heart, body and soul – to mercy, hope, healing and love through the grace and mercy of Jesus Christ. By pairing the sacraments of the Church with the 12 steps, Weeman has imbued the wonders of reconciliation, the holy Eucharist, baptism and confirmation into the recovery process. Acknowledging our complete dependence on God, making amends, seeking forgiveness, reconciling broken relationships: all of these are elevated to the level of the divine when married to the sacraments of the Church.
Glorify the Lord by Your Life
After searching, Bischoff knew this program was what she wanted to bring to her parish, St. John the Baptist Church, in Harrison. When she approached her deacon, Don Meyer, about starting this new ministry, he readily agreed, allocating resources for this new group and assisting with implementation. They ordered the books and confirmed the meeting time.
They had a group leader and people were showing up. They were off to a great start.
Now, once a week, you'll find Bischoff on a conference call with Scott Weeman and other group leaders from parishes around the nation. Weeman shares videos and reflections and offers guidance, direction and general encouragement as well. With this ongoing support, Bischoff is well prepared to guide the Monday evening meetings.
In their four months of operation, their outreach is growing. There's an affiliated support group for friends and family of addicts held at the same time and location.
Interested in learning more or joining the ministry? Contact Jill Bischoff at 812-571-3070.
For parish-wide inquiry, please visit www.catholicinrecovery.com