Catholic Schools Week celebrates faith, academics, service
January 23, 2012
Arlington, Va. – The theme for Catholic Schools Week 2012 is "Catholic Schools: Faith. Academics. Service." The annual observance starts the last Sunday in January and runs all week, which in 2012 is Jan. 29-Feb 5.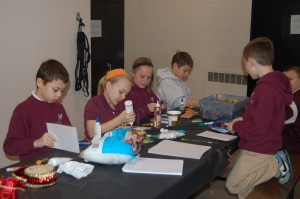 Schools typically celebrate Catholic Schools Week with Masses, open houses and activities for students, families, parishioners and the community at large. Catholic schools in the archdiocese are planning many events in recognition of this week. The Cincinnati Catholic Schools Week Mass is scheduled for Jan. 31 at 10 a.m. at the Cathedral of St. Peter in Chains. Retired Archbishop Daniel E. Pilarczyk will celebrate and representatives from all Cincinnati area Catholic schools will be present. A similar Mass is being planned for the Dayton area and the Northern region on April 25.
The Catholic Schools Week 2012 logo is a rectangle, with the words "Catholic Schools" in red across the bottom of the rectangle. The "t" in Catholic is a purple cross, and from the right top corner of the T/cross is an undulating green banner with words in white lettering that proclaim, "Faith. Academics. Service."
The theme focuses on three priorities that Catholic schools establish that make them stand out from other educational institutions. Children are taught faith, not just the basics of Christianity, but how to have a relationship with God. Academics, which in Catholic schools are held to very high standards, help each child reach his or her potential. Service, the giving of one's time and effort to help others, is taught both as an expression of faith and good citizenship.
Catholic Schools Week is a joint project of the National Catholic Education Association (NCEA) and the U.S. Conference of Catholic Bishops. To learn more about Catholic Schools Week, visit the NCEA website at: www.ncea.org/news/CatholicSchools Week.asp. The date for Catholic Schools Week in 2013 is Jan. 27-Feb. 2.