Celebrating the past, looking to the future St. Stephen Parish celebrates 150th anniversary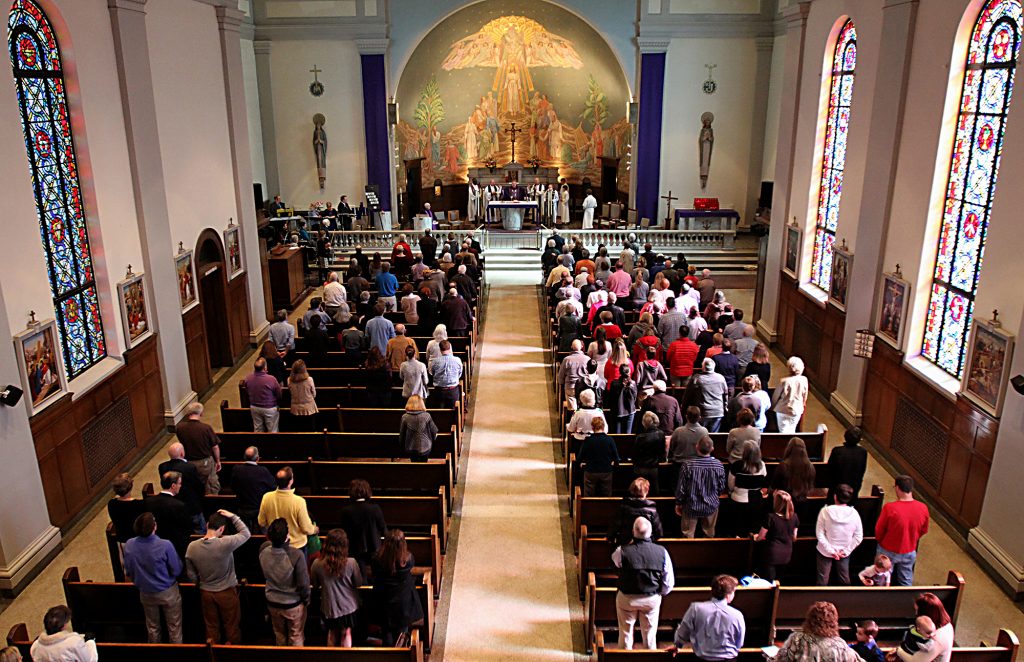 As St. Stephen Parish in Cincinnati's Columbia Tusculum neighborhood celebrates 15 decades of serving the area's Catholics, the congregation is as focused on the future as on looking at the past.
"There are more than 200 families now and we are beginning to grow," said Mike Keating, life-long parishioner and unofficial parish historian, who oversees the building and grounds committee. "That's why we are putting such an emphasis on the 150th anniversary: to promote ourselves.
"There is a population change in Columbia Tusculum. There is a significant rebuilding effort surrounding the community. Private residences and businesses are growing. New blood is coming in."We are hoping to bank off of that and be here when they arrive. They're renovating old homes, building new homes, opening new businesses. People are tearing down old houses… and building new ones on the same footprint, the same lot," said Keating.
The way the neighborhood is reinventing itself harkens back to 1867, when the parish was founded by Archbishop John Baptist Purcell.
"The reasoning for founding the parish was because at that time Columbia was growing. Tusculum, on the hillside above, came later," Keating said. "The people here were going all the way up to St. Francis de Sales in Walnut Hills for Mass. The people felt it to be too far to go to up on the hill (and) petitioned Archbishop Purcell to build a church. He gave the permission, and within a year, construction began on the first church, on property leased by the parish from the Longworth family known for the family's Mount Adams vineyards.
"When it was dedicated and began serving as a parish, it was a German-speaking church and remained so until about 1880," Keating said.
The original church was destroyed by fire in 1922. The current church was dedicated a couple years later. Between 1944 and 1946 the interior was renovated, including the addition of a mural of the risen Christ by well-known Cincinnati artist Carl Zimmerman. It rises above and behind the altar. Stained glass windows from the C.G. Riordan Company, Cincinnati, were installed.
Besides the trek to Walnut Hills, the other key reason St. Stephen was founded was community growth: a bit of serendipity when looking at the community as it reinvents itself today.
"This was a significant retail business community back then and there was a lot of farming, especially up on the hill. There were a lot of businesses serving the community: a lumber mill, a sand and gravel operation, small retail stores," Keating said. "It was a magnet and it was … a self-contained community at that time."
Turn the pages forward to present day.
"We are going back to the service concept much like in 1867. The community has a lot of service-oriented restaurants, small businesses, carryouts, a bank. It's a flashback to the old days," Keating said.
"If you go to St. Stephen today you would find a parish that is motivated to grow. You would find a parish that is motivated on the part of the parishioners in the pews to move past the 150th anniversary and get to the future. You would find a parish that's a bit nervous about the future, but anxious to find out what it is," Keating said. "There's nervousness because we don't know what the neighborhood is going to bring. We are concerned about the number of people who don't go to church today."
Beth Worland, parish administrator, said, "St. Stephen is a hidden jewel that offers those who enter its doors unique artwork, meaningful liturgies, beautiful music, and spectacular stained glass windows. At St. Stephen, individuals and families choose to be a part of the faith community because our church welcomes, supports and cherishes each and every person who enters its doors.
"Now as St. Stephen celebrates its sesquicentennial, the responsibility for our church's future is passed on to us in expectation that St. Stephen remains the jewel it is, by being a special, spiritual home for many generations to come."
The parish is a canonical pastorate: a parish where there is no permanent pastor in residence. Father Edward Smith, pastor at Our Lord Christ the King Parish in Mount Lookout, oversees the parish and serves as sacramental administrator. Retired Father Tom Fitzsimmons is in residence. Worland supervises day to day parish business and operations.
"Right now," said Keating, "our demographic is the elderly parishioner. We have a large number of retirees here, but our plan is to reach out to the younger crowd who are into their first jobs and just married. We see them coming here, trickling in. We are having a big increase in couples coming here for marriage which is a significant change.
"We see light at the end of the tunnel. There are significant things that cause us to be looking up, and there are things we can do and make us believe that our effort is going to succeed by reaching out to the younger community by making ourselves known by encouraging parishioners to go out and bring a friend to Mass, and by promoting our 150th as widely as we possibly can to the community."
For more information about upcoming anniversary events, check the parish website at http://saintstephen.church, Facebook, or bulletin for updates.