Body and Soul Recipe Overnight Christmas Blueberry-Pecan French Toast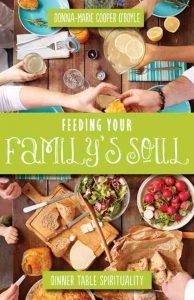 Editors Note: In the May 2017 Print Edition of The Catholic Telegraph, Body and Soul on page 24 featured a story on Donna Marie Cooper. Below is her featured recipe:
Ingredients:
nonstick spray
1 baguette, cut into 20 one inch slices (you can use a wholegrain bread for extra nutrition or even a gluten free bread)
6 eggs
3 cups of milk
1 cup brown sugar (I use honey or pure maple syrup)
vanilla to taste
nutmeg to taste (or just use cinnamon)
Cinnamon (I sprinkle it all over the top as well as into the egg batter)
1 cup pecans, toasted
2 cups blueberries, fresh or frozen
Preparation:
Coat a 9 x 13-inch baking pan with the nonstick spray and arrange the baguette slices in a single layer in the dish. I cheat and do a couple of layers! In a large bowl, whisk together eggs, milk, three-fourths of the brown sugar, vanilla and nutmeg. Pour the mixture evenly over the bread.
Cover and chill the mixture overnight. There will appear to be a lot of moisture when the mixture goes into the refrigerator, but most of it will soak into the bread by morning.
Just before baking, sprinkle the remaining one-quarter cup brown sugar, (or honey or pure maple syrup). pecans and blueberries over the bread. Bake the dish in a 350 degree oven for 45 minutes to one hour (the recipe says 30 minutes, but I found that it could take longer, so check at 30 but be sure to have allowed for 45 minutes to 1 hour) or until golden and bubbling. Serve with pure maple syrup. For an added treat, heat the syrup with blueberries and have blueberry-flavored syrup.
Enjoy!