Children of Mary establish local motherhouse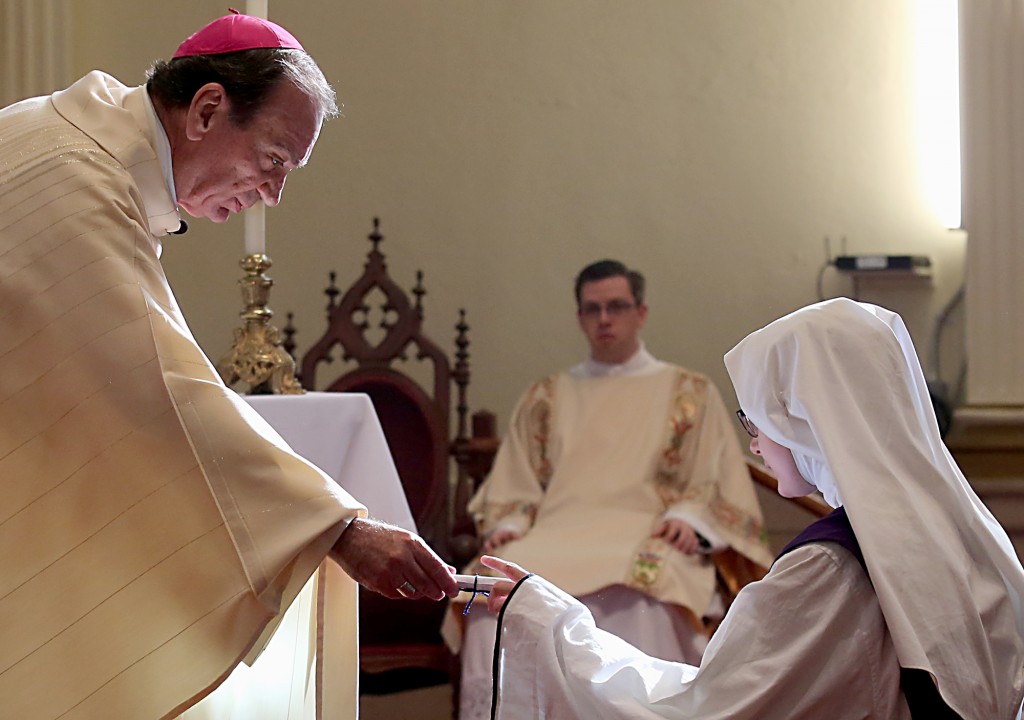 For the past three years, the Children of Mary have spread love and reverence for the Eucharistic Lord through their ministry and presence in the archdiocese.
In November, Archbishop Dennis M. Schnurr erected the semi-contemplative religious community as a Public Association of the Faithful. On Nov. 21, the archbishop offered a Mass celebrating the establishment of the sisters' motherhouse house at Our Lady of the Holy Spirit Center in Norwood. The community will continue to maintain its daughter houses and ministries in the Columbus diocese.
"We love our places in Columbus and Newark, but there just isn't room for all of us," explained Sister Agnes Immaculae. The community is currently comprised of 11 sisters, with two more young women set to join them in January.
The north wing of the center has been undergoing extensive renovations for the sisters' use. The project was expected to be complete by Dec. 19. The space features a large chapel, 17 cells (bedrooms), community and meeting rooms, refectory, offices and a parlor. The third floor is also available for their use when funding is available for additional remodeling.
"This gives us room to grow, whereas in Newark we were not able to expand due to zoning regulations," Mother Margaret Mary explained. The sisters' daily schedule is a balance of prayer, adoration, work and holy leisure.
"We dedicate so much time to just being with the Lord," said Sister Agnes Immaculae. "Our whole charism is to spread knowledge of Him and love for Him in the Eucharist."
The sisters hope the additional space will enable them to expand their active apostolates, including prison ministry and Hospice visits, adult faith formation, monthly prayer gatherings for girls and a first Communion preparation program for children.
During his homily, the archbishop said of the Children of Mary: "We have been blessed by their presence because they bear witness, as individuals and as a community, to Mary, our Mother, Like the Blessed Virgin Mary, they commit their lives to seeking God's will, accepting God's will, and living it with consistency and constancy. Sisters, today we welcome you, we thank you for your faithful witness as disciples of Jesus, we assure you of our continuing prayers, and we ask for your prayers."
Sister Margaret Mary expressed her community's gratitude for the support they have received saying, "Archbishop Schnurr and the people of the archdiocese have been so kind and welcoming."
As they looking to future, Sister Agnes Immaculae said, "We are letting the Lord unfold it all."
For more information about the Children of Mary, visit http://www.childrenofmary.net.