Cincinnati mayor, alum visits St. William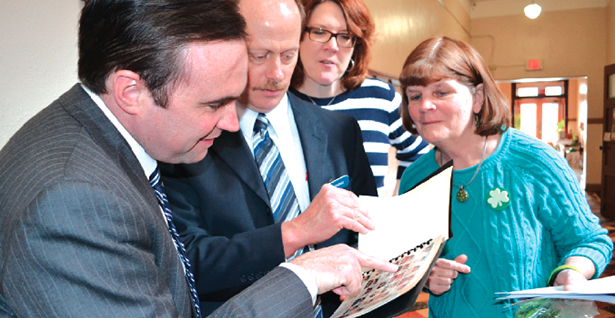 By John Stegeman
The Catholic Telegraph
Among the students graduating St. William's eighth grade in 1988, one dreamed of being an architect or an actor.
He ended up the Mayor of Cincinnati.
Mayor John Cranley attended the Price Hill institution from first through eighth grade before going on to St. Xavier High School and a collegiate career at John Carroll, and Harvard Law and Harvard Divinity.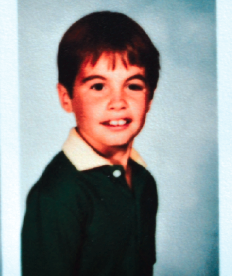 Cranley returned to his West Side of Cincinnati roots March 14 to address the current students of his Catholic grade school alma mater, telling them to focus on their studies.
Cranley credited the education and faith formation he received at St. William as a major factor in his life thus far.
"I really believe that the guiding principles of my life have been the faith, and the values taught here at St. Williams related to service of your fellow man and woman," Cranley said. "To whom much is given, much is expected. If we've been given by God many blessings, we have an obligation to say thanks, and in saying thanks, to build our community. I hope all of you will take that seriously. I hope that all of you will try to be your best self and to pursue your dreams."
After speaking for about 10 minutes on his goals as the mayor, (namely creating jobs, reducing violence, improving diversity and handling the budget) Cranley took questions from students. One asked how St. William prepared him for his future career in politics.
"It really is a well rounded holistic approach to education," he said. "You have a serious focus on academics and you're surrounded by the Catholic education where you remember that everything you do is to be centered on God, to remember that what we have is a gift and that we have to give back for how much we've been given and take care of our fellow man. That has really been an inspiration for me."
Another student asked Cranley if he always dreamed of being mayor.
"I don't think I wanted to be mayor when I was in grade school," he said. "What I remember as a kid was wanting to be an architect, but I think at some point everybody wants to be an architect. Then I spent years in high school wanting to go into show business, which is pretty close to politics. I did theater in high school and college and even law school. I thought about doing that but I remember my mom once said to me, 'You're good on stage, but you're not that good.'"
Finally, a teacher asked for the mayor's advice on how students can improve their communities.
"First and foremost is by doing your primary job, and as you have more time, do your secondary and third jobs," Cranley said. "Your first job is to be a good student and to get very serious about your academics… The second is with your family in your neighborhood, to look after each other… You have a right to demand from us a better city."
Cranley said fellow St. William alums helped to set up his visit, adding that he was honored to be asked to return to his alma mater and speak to students.
"It is very humbling," he said. "I remember being here and having big dreams. To come back here as mayor is cool."
Cranley said there could be a future mayor walking in the same footsteps even now. St. Williams' Principal Michael Monnig seemed to agree.
"I think it really helps to motivate the students to see you can come out of the halls of St. William and be a success," he said.
This article originally appeared in the April 2014 print edition of The Catholic Telegraph.