'Power Inspires Progress' gathers people around table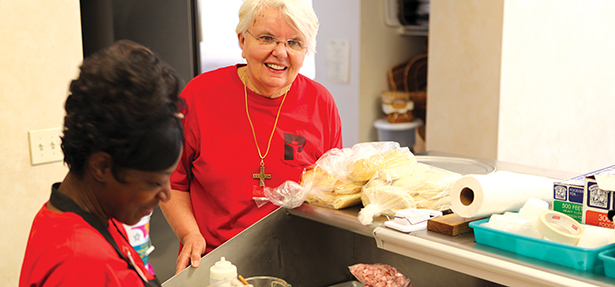 By Eileen Connelly, OSU 
The Catholic Telegraph 
From the outside, Venice on Vine looks pretty much like any other pizza place. But, on a damp, chilly day as one steps from the crowded streets of Cincinnati's Over-the-Rhine into the warmth of the restaurant, there is an unmistakable sense of hospitality and that something very special happens there.
Venice on Vine, along with Venice Catering, comprises the non-profit Power Inspires Progress (PIP), which operates small businesses in the inner city to provide positive, meaningful work opportunities for adults with employment barriers and teaches them life skills, work ethics and personal responsibility. PIP's beginnings go back to 1986 and the vision of two women religious — Sister of Notre Dame de Namur Judy Tensing and Dominican Sister of Hope Barbara Wheeler.
Editor's note: This is the first article in our new monthly feature, "Body and Soul." In future issues we hope to feature faith-filled folks who nourish others through their ministries, other food related topics, and perhaps even heavenly inspired recipes. Please send story ideas to Eileen Connelly, OSU.
Sister Barbara, who passed away in January, was a trained nurse. Sister Judy attended the former St George School, now Corryville Catholic, and ministered as an elementary school principal before being transferred to St. Joseph Parish in the West End in 1978.
The sisters originally called the organization People Interested in People, and their goal, said Sister Judy, was to provide women living in the West End with job opportunities so they could become independent of the welfare system.
"These two women came to the inner-city to share their lives with the folks they met here," said Mark Shannon, current executive director of PIP. "They literally gathered them around the table."
After developing various cottage industries, including building and selling caskets, silk screening and an extermination service, Sisters Judy and Barbara realized that the skills of many of the women were rooted in the cooking they had already done for their families for years. And, it was that business, said Sister Judy, which "really took off."
They opened Venice Pizza in University Heights in 1990 with funding from Sister Barbara's congregation, and moved the restaurant to its current Vine Street location in 2006. Now approximately 35-40 people each year have the chance to train in either the pizza parlor or catering business, where they learn practical skills and gain the knowledge and experience they need to be successful in the workplace and literally transform their lives.
PIP trainees are people who want to work, but have faced barriers to employment such as a lack of transportation, no work history, physical or learning disabilities, difficulty with reading, writing or math, or a past history of addiction or incarceration. Program participants can work with PIP for up to a year. During their work day, they practice teamwork, develop problem solving and customer service skills and learn cash handling, cooking, and cleaning.
Each trainee also has an educational goal and is required to work with a volunteer tutor in sessions that may focus on basic math, reading, GED preparation, computer skills, or college assignments. Volunteers also conduct mock interviews and teach resume writing and job skills. In addition, PIP partners with other local organizations to help trainees overcome barriers like housing, healthcare, childcare and transportation.
"We want them to believe in themselves, that they are smart and have the ability to learn," Shannon said, "but we also have the expectation that they will be fair and honest and respect each other. We try to be pretty intentional about how we interact with each other. As a result, sometimes life changing moments happen behind the grill or around the table."
"They're part of the team," Sister Judy emphasized. "It's important to us that that feel at home and know that they have a place at the table, too."
That philosophy has led to countless success stories: PIP trainees who have gone on to work at restaurants, bakeries, in food service at nursing homes or pursue a degree at technical college.
While facing increasing competition from other neighborhood eateries, Venice Pizza draws a busy lunch trade from downtown professionals and constructions crews working on nearby projects. The atmosphere is inviting, the staff helpful and friendly, and the homemade soups, salads, pizzas, subs and desserts delectable. Shannon said he hopes to adapt the menu in the future to "capture the imagination" of new residents moving into neighborhood, and ensure that Venice on Vine is a "welcoming place for everyone."
While guests enjoy the menu at the pizza parlor, groups of 15-300 can savor home cooked meals in the venue of their choice courtesy of Venice Catering. Sister Judy and her talented team have prepared and served food for family functions such as baptisms and weddings, corporate events for local businesses, special occasions for area religious communities, and for St. Patrick's Day and Mardi Gras parties. The PIP trainees enjoy preparing crowd pleasers such as Chicken Marsala, along with trying their own recipes.
The catering experience is rewarding, said Shannon, as trainees receive compliments and appreciation for their efforts from clients. They also benefit from the exposure to new situations and environments the group encounters when catering a meal, be it for an area business or church.
"We receive a lot of affirmation from the people we cater for and have a lot of repeat clients," said Sister Judy, who was named one of the Cincinnati Enquirer's Women of the Year in 2013 in recognition for her work. "People feel like we're part of the family. So much of what we do is just about bringing people together."
For more information about PIP, visit www.powerinspiresprogress.com.

This story originally appeared in the April 2014 print edition of The Catholic Telegraph.