Cincinnati NET Ministries appoints new director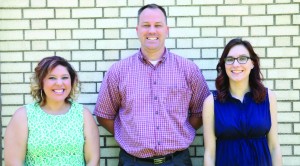 Change is coming to NET Ministries in Cincinnati — the first NET Ministries hub in the United States.
Ryan Lopez, who with wife Catherine, coordinated the local NET office, is departing to take a leadership position with the Minnesota-based Laboure Society, a ministry designed to assist people who want to discern religious life as priests, brothers or sisters, but are held back because of student debt. Laboure provides programs to help pay off such student loans.
Catherine Lopez will continue with NET Ministries as regional scheduling administrator for the local NET hub. She and her husband will continue to live in Cincinnati.
Mark Hollcraft, former associate director of new evangelization for the Diocese of Crookston, Minn., with 17 years in parish youth ministry and a former NET Ministries missionary, will become director of the Cincinnati NET Ministries Hub effective July 25.
Another new employee, Lauryn Coules, will work with Catherine Lopez in scheduling retreats locally and within the Midwest region of the organization.
NET Ministries also will create a new regional ministry office in Alhambra, Calif., to serve the western United States, Catherine Lopez said.
"I accepted the position to serve as director of the Cincinnati office to be faithful and obedient to how the Holy Spirit was moving in the life of our family," said Hollcraft, who will relocate to Cincinnati with his wife, Meredith, and six children. "My hope is to partner with the Archdiocese of Cincinnati and the surrounding dioceses to share the Gospel of Jesus Christ. This is the mission and vision of NET. We are grateful to Archbishop Dennis M. Schnurr for his support of NET Ministries over the years and his leadership in helping NET Ministries serve the archdiocesan efforts to evangelize young souls and their families."
Hollcraft, a native of Modesto, Calif., holds a degree in history from the University of North Dakota.
"For the past several years," Lopez said, "we have had a regional team based in Cincinnati. We schedule retreats and designate two to four weeks to each diocese interested in having us come in. Our teams will travel across the country. They will get to each diocese interested in retreats. A difference is that Cincinnati has their own NET team based in the archdiocese . They do not travel as much but will go outside of this diocese if needed, but the main focus is Cincinnati.
"Our office is in the Chancery Building, downtown, and while we are separate from the archdiocese, we work very closely with them particularly the Office of Evangelization. We coordinate with them and we have been working on a couple of different programs with them. Part of our goal in having the office here is to make ourselves more regional."
Lopez said NET's teams of missionaries, age 18 to 28, number about 175.
"We break them up into about 16 teams and they travel to schools and parishes and offer retreats for youth anywhere from sixth to 12th grade. We are focused on middle school and high school.
"Our teams of 11 to 12 missionaries each do the retreats about six days a week. Overall our teams conduct some 1,500 retreats a year," Lopez said
NET was created more than 35 years ago in St. Paul, Minn., with a small group of people who saw a need for youth retreats.
This story first appeared in the August 2016 print edition of The Catholic Telegraph.