Cincinnati Right to Life 5K to be hosted by IHM at Lunken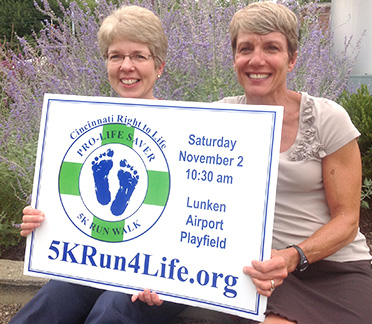 By Kate Tucci
Press Release
For the first time in its history the Cincinnati Right to Life 5K Run/Walk will be held on the east side of Cincinnati and will be hosted by Immaculate Heart of Mary Parish. 
With encouragement and support from Pastor Tom Kriedler and many IHM parishioners working behind the scenes, Event Coordinator Marjie Cassani's said the goal of making the race a fun-filled "faith raiser" as well as a fundraiser for the entire greater Cincinnati community is going to be reached.  Marjie said the goal is to increase awareness, involvement and to win the race for life.
The race will be at the Lunken Airport Playfield on Saturday, Nov. 2 at 10:30 a.m.  Race Day registration is available beginning at 8:30 in the Lindner Tennis Center or register early online at 5kRun4life.org by Oct. 30, 2013.  Individual cost is $25 which assures you one tee shirt, or families with 3 or more can register for $45 but receive one tee shirt per family.
Many prizes are planned that cover all age categories and to reward team efforts.  The top individual fundraiser, and the top team fundraiser as well as the team with the most members will each win Scallywag Tag gifts for 10 people.  The race will include 5k chips that will be timed by Jeff Coudron of Speedy Feet.
The Pro-Life Saver 5K Run/Walk is designed with something for all ages.  Popular Sacred Heart radio hosts Matt Swaim and Anna Mitchell will be our emcees for the award ceremony and prizes.  A kid's dash with two age levels is on at 11:15 a.m. and one of the generous sponsors, JTM,  is providing free "walking tacos."  The festival atmosphere will be complete with free refreshments as well as live music provided by Easter Rising.
Also, "The Space Painter" Tom Sparough will be there juggling.  Kids will also enjoy getting their faces painted.  Don't miss this opportunity to support life and to have a good time with your own family and community. As Paula Westwood, Executive Director of Right to Life of Greater Cincinnati said:  "The Pro-Life Saver 5K is a positive celebration of the gift of life for every person at every age and stage."