Cross the Bridge for Life Sunday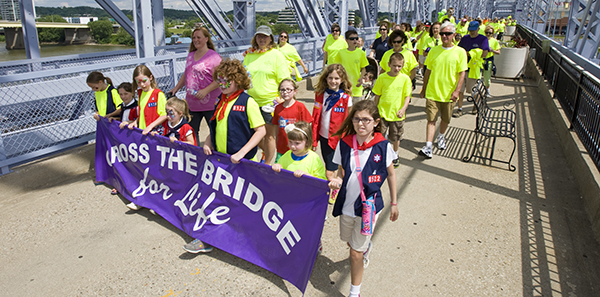 Staff Report
On Sunday, June 7, thousands of people from across the Archdiocese of Cincinnati and the Diocese of Covington will come together and witness for the unborn by crossing the Purple People Bridge (officially the Newport-Southbank Bridge), which spans the Ohio River from Newport on the Levee in Kentucky to Sawyer Point in Cincinnati.
This year marks the 10th year of Cross the Bridge for Life, which used to begin at the World Peace Bell but has grown so large that it will now begin at the Festival Park at Riverboat Row on the Newport, Ky. riverfront. More than 4,000 people regularly participate and large crowds are expected this year.
The festivities begin at 1 p.m. and food trucks will be available with food for purchase. T-shirts will be available for free (but the Cross the Bridge for Life website does suggest a $5 donation) and a brief program will begin at 2 p.m., followed by the walk itself.
The program includes emcee Matt Swaim, host of the Son Rise Morning Show, Pastor Eric Petree of CityGate Church, Archbishop of Cincinnati Dennis M. Schnurr, Bishop Roger Foys of the Diocese of Covington and Defender of Life award recipient Brian Patrick. A balloon launch will begin the walk.
A free JTM picnic will follow the walk across the bridge with live music by the band Easter Rising. The family friendly event will include balloons, clowns and activities for children following the walk. No signs are permitted at the event.
Posted June 5, 2015