Friday Photo: Take me out to the ball game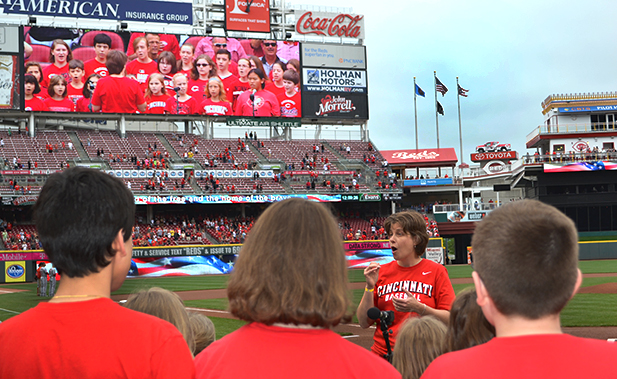 Staff Report
About 40 members of the St. Maximilian Kolbe Children's Choir took to the field at Great American Ballpark Sunday May 31, marking the second-straight year the choir has performed at a Cincinnati Reds' game.
The children's choir, directed by Mary Ella Wielgos, sang the Star Spangled Banner before receiving a nice ovation from the home crowd. In the photo above, Wielgos directs and the choir can be seen on the large jumbotron above left field.
The St. Maximilian Kolbe Children's choir has also sung at several Dayton Dragons games.
After their performance, the choir and other members of St. Maximilian Kolbe parish enjoyed the rest of the game as spectators, watching the Reds defeat the Washington Nationals 8-2. The Reds are now 1-1 all time when the children of St. Maximilian Kolbe sing the national anthem.
Previous Friday Photos
Summer nights, festival lights
Taking the Plunge
Cinco de Mayo
Welcome to Friday Photo. A post where The Catholic Telegraph staff select an image that shows the vibrant life of the faith community in the Archdiocese of Cincinnati, and around the world. To submit a photo for consideration, email John Stegeman with "Friday Photo" in the subject line.
Posted June 5, 2015