Cyclists complete 5th annual 240-mile Ride for Life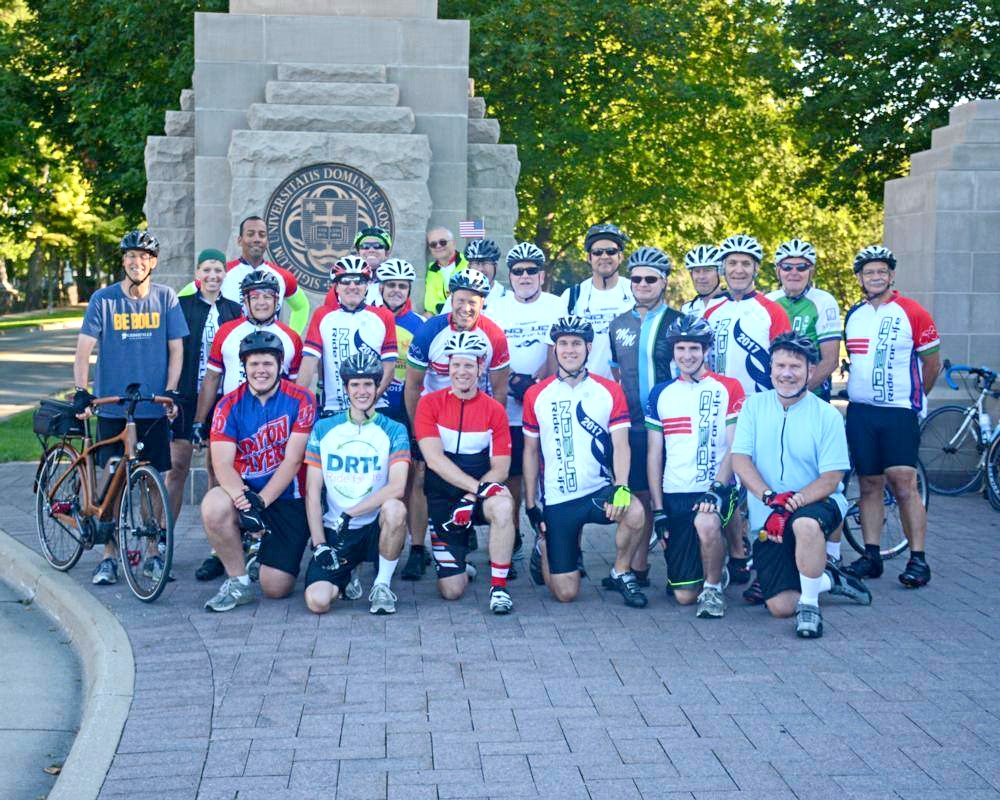 Twenty-three riders made the four-day bicycle trip between the University of Notre Dame and Dayton University for Dayton Right to Life's fifth annual Ride for Life in late July.
Previously held in the opposite direction — from "UD2ND," as the ride was called – this year the ride began at Notre Dame.
ND2UD participants traveled in three group based on cycling ability and speed, and stayed with host families after each leg of the trip.
"We had beautiful weather and our hosts each night are so supportive of LIFE, they fed us dinner and breakfast each day," said Dayton RTL's Diane Inglet, who helped organize the ride, and biked it herself.
"It's is a very reflective time, riding in the countryside," she said. "It gives you quiet time to reflect on the value of life and the importance in defending those who don't have a voice."
Father Shawn Landenwich, pastor of St. Patrick Church in Bellefontaine, was one of the cyclists and also the group's chaplain, celebrating Mass for them every morning at 6:30 before the day's ride. He wrote the following to his parish:
I was fortunate to serve as chaplain for this year's Ride for Life. We rode 240 miles on bikes from the University of Notre Dame to the University of Dayton over four days (July 29-August 1).
The ride raise awareness for the importance of defending human life from conception to natural death. We offered up four days of prayers, Masses, and a good deal of penance for the cause.
I finished this ride with an even stronger conviction that it is not enough to be pro-life; we must actively stand up and defend life. The legalization of euthanasia is spreading, and Ohio has been targeted as the next state to advance this attack on human life. It was also iron that this ride began right after [British infant] Charlie Gard's life support was removed.
I encourage everyone to pray ant to take action to promote a greater respect for all human life. No matter how young or old we are, we are created in the image of God. As Christians, it is our mission to promote the sacredness of all human life!
The ride is a fundraiser for the Dayton pro-life organization, which operates a pregnancy care center and "baby pantry" as well as providing a variety of educational programs, consulting with legislators, and co-sponsoring or participating in a variety of projects including 40 Days for Life Dayton, the annual National Day of Remembrance for Aborted Children and Life Chain observances, and the annual fall LifeTech Conference.
Father Landenwich recommends that people who are not alreadly long-distance cyclists train for a few weeks or months in advance. "You don't just hop on a bike and ride 60 miles a day for four days!" he said. But he also said the ride is worth every pedal.
"It's partly sacrificing for the cause," he said. "And it's partly witnessing – at every stop we made, we ran into people asking what we were riding for. Both for the people doing the ride, and the people they witness to, it's a great thing to do.
For information about next year's Ride for Life, visit Daytonlife.org.
For information about the fall 40 Days for Life Campaigns in Dayton, Sharonville, and Cincinnati, as well as for the LifeTech Conference and the National Day of Remembrance for Aborted Children observances in the Archdiocese, see our continually updated Calendar of Events by clicking on the "events" button at the top of the page.