Eight Badin High students earn awards at annual Middletown Arts Center exhibition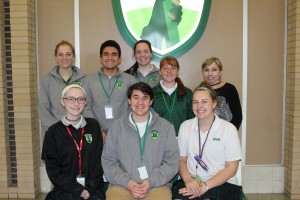 Eight Badin High School students earned awards Saturday evening at the opening of the Middletown Art Center's annual "Tomorrow's Artists Today" exhibition/competition, which runs through late March.
"These are some amazing pieces of art from our students and we are thrilled at their success," Badin art teacher Sarah Daniels said. "We had work from 13 students selected into the event, and that is simply outstanding."
Senior Dominic Grime led the way with three awards – a first place in Drawing; a first place in Watercolor; and a third place with yet another drawing. Senior Franky Hernandez had a first place in Photography, and senior Abby Lampe had a second place in Photography.
"This is a very prestigious event," Daniels said. "Our students are well represented and we are really proud of their work."
Badin students had an unprecedented 30 pieces of artwork juried into the competition. Works were submitted in five categories from students representing more than 30 schools in Southwest Ohio, ages 13-18.
Other winners from Badin included senior Lindsey Doerger, third place in Watercolor; junior Maddie Maccio, third place in Mixed Media; and junior Emma Wethington, third place in Oils/Acrylic Painting. Honorable mention awards went to senior Sam Sander in Drawing and junior Anna Cantwell in Photography.
Other Badin students with artwork in the exhibition include seniors Alyssa McKinney and Claire Smith; and juniors Grace Barrington, Drew Holderbach and Lizzie Kolde.
According to a Middletown Arts Center release, the center "believes in fostering artistic passion in the community. (This exhibition) brings together the best up-and-coming artists our community has to offer."
The Middletown Arts Center is located at 130 N. Verity Parkway. The "Tomorrow's Artists Today" exhibition runs through March 23.