Family Activities for June 2015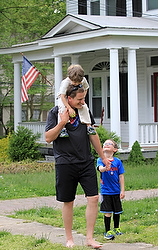 By Greg Hartman
The Catholic Telegraph
School is out and summer is in full swing. Here are some fun, wholesome activities the whole family can enjoy in June.
Sunday Father's Day June 21st: Make a picture of St. Joseph, or go to a Catholic bookstore to get a medal or statue for your Dad or Grandfather. Another opportunity is to have a family event where everyone partakes in carpentry. Perhaps you could spruce up a few things around the house that requires some carpentry. Today is a great day to help Dad, and to remember Jesus as a Child with his father Joseph.
Wednesday June 24th Nativity of John the Baptist: Build a bonfire and think about St. John the Baptist life as spreading the word and preparing us for our savior. During the bonfire take some quiet moments, reflecting the time where Zechariah was unable to speak before the birth of his son. Reflect on John's Testimony in John 3:30: "He must increase, I must decrease." Conclude with reading the Canticle of Zechariah.
Summer Fun: During vacation whether your family is traveling or doing a staycaction, prepare a Vacation Retreat. Start the day with prayer. Attend a local parish mass a couple times during the week if you're on the road, or go to parishes outside your neighborhood for mass. Have an evening prayer by having the family take a walk with God. Special prayers may be said for travelers, and family members and friends that may be on the road this summer.
Monday June 29th Solemnity of Saints Peter and Paul: Prepare a fish dinner on this day remembering St. Peter, and have a family member discuss a time or times when they were struck down and how to place faith in Jesus to deal with that. Another opportunity on this day is to pray for our Archbishop Schnurr on the fifth anniversary of receiving his Pallium from Pope Benedict the XVI as he shepherds the Archdiocese of Cincinnati.
Throughout June, Vocation View Recent College Graduates: Pray for our recent college graduates. Some are beginning their careers while others are processing on what the next step in life will be. Encourage them to pray to Jesus for guidance and wisdom as well as participating in their local parishes.
Posted June 11, 2015