Throwback Thursday: Orphans' best friend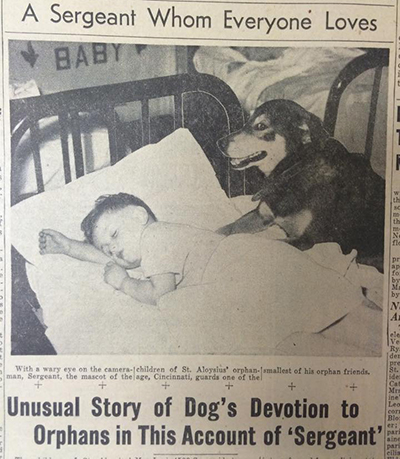 Staff Report
Everyone loves a story about a good dog. In 1945 St. Aloysius Orphanage, then a Catholic institution, had a canine companion named Sergeant. In the photo accompanying today's Throwback Thursday, Sergeant is seen standing watch over a sleeping boy who's name is not given.
According to the cutline, the dog kept "a wary eye on the photographer" as he or she photographed the sleeping child.
Sergeant, it seems, belonged to a Mr. and Mrs. Max Levi who lived nearby but everyday the dog would make the trek from his home to the school where a teacher, Sister Adele, would let him in when he scratched on the door just before the start of classes each day.
According to the accompanying article, published in the June 22, 1945 edition of The Catholic Telegraph-Register:
Sister never refuses, for she knows that Sergeant conducts himself in the classroom as properly as her most docile pupil. He usually sits near the door, such a model of correct classroom deportment that his report card always shows a big "A" for conduct.

But when the bell announcing the end of the class rings, Sergeant is transformed from a living statue into a mass of quivering excitement. He runs to the door and when it is opened he dashes into the play field with dozens of happy children frolicking after him.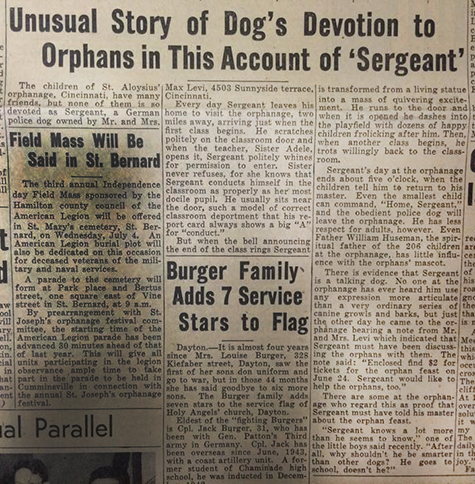 According to the story, Sergeant's devotion to the orphans was clear. Any of the orphans, even the youngest among them, could give him commands and he'd obey. Adults, including the orphanage's priest, "had little influence" with the canine.
Once Sergeant showed up with an envelope with a $2 donation and a note from his masters that the dog wanted to help the orphans financially too.
"Sergeant knows a lot more than he seems to know," the article quotes an unnamed child. "After all, why shouldn't he be smarter than other dogs? He goes to school doesn't he?"
St. Aloysius Orphanage was established in 1837 and is still in operation, though it has not been a Catholic institution since January of 2002. The orphanage's website states that St. Aloysius has no religious affiliation.
Welcome to The Catholic Telegraph's edition of Throwback Thursday. Throwback Thursday is a weekly online activity wherein users of social media share an old photo or anecdote about times gone by.We use Throwback Thursday to highlight the history of the Archdiocese of Cincinnati, and our publication.
Recent Throwback Thursdays
Newspaper production then and now
Summer fun with a nun
Priests reflect on first year
Every bishop was ordained a priest first
Archbishop goes to Rome for Holy Year
Posted June 11, 2015