Family Rosary Rally to take place Oct. 12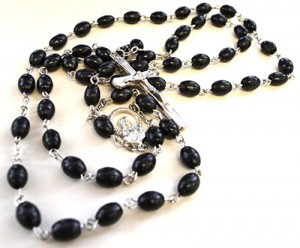 By Steve Trosley
The Catholic Telegraph 
The 10th annual Family Rosary Rally will be held Oct. 12 at the University of Dayton Arena with Archbishop Dennis M. Schnurr presiding.
The prelude music will begin at 2:30 p.m., according to Don Coty, an event organizer. That will be followed by a 10-minute adoration of the Blessed Sacrament, a live Rosary and end with Benediction. Coty, a Knights of Columbus member, said the Rosary will be recited by 60 individuals on chairs who will each put a rose in a stand ringing a statue of the Blessed Virgin, after they complete their prayer.  One decade of the Rosary will be said in Spanish. They may also say one decade in German, but that has not been confirmed.
The event is supported and organized by Dayton area Knights of Columbus Councils. There are also 20 Dayton-area parishes that support the event for which admission and parking is free.
In addition to members of the supporting parishes, clergy and Knights of Columbus councils, first communicants from the area will be participating.
The event was originally organized by 1949 graduates of Cincinnati's Elder High School, according to Joe Beyerle, who brought the event to his adult home of Dayton after seeing it in Albuquerque, New Mexico. Three years ago, Beyerle said, he realized the event would need younger leadership and his wife suggested the Knights. He said the local Dayton councils accepted the role readily.
This article originally appeared in the September 2014 print edition of The Catholic Telegraph.
Posted Sept. 25, 2014