Throwback Thursday: Catholic prep football in the CT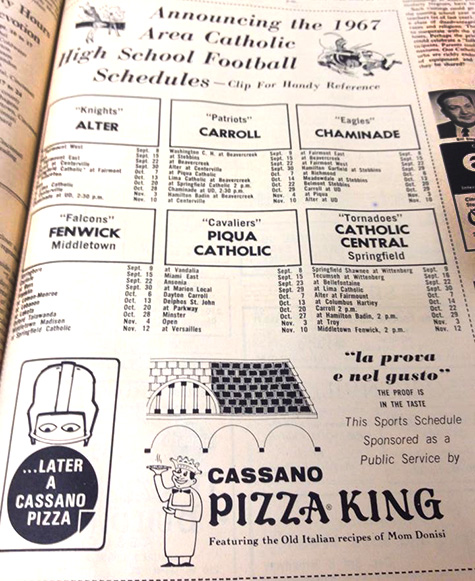 Staff Report
As far as The Catholic Telegraph staff can tell, this newspaper never had a traditional sports page. Still, the schedules, standings, awards and related happenings involving area Catholics and sports often found their way into the pages.
Today's Throwback Thursday is from a late-August edition in 1967. Back then, The Catholic Telegraph-Register published a Miami Valley version of the newspaper for the Dayton and northern parts of the archdiocese. This excerpt from one such edition shows the high school football schedules for the existing Catholic High Schools for that part of the archdiocese and their 1967 season schedules. The schools included are Alter, Carroll, Chaminade, Fenwick, Piqua Catholic and Catholic Central.
Not everything remains the way today it was in 1967.
Chaminade's football team is still called the Eagles, but the school is now known as Chaminade Julienne after merging with Julienne High in 1973. The school listed as Piqua Catholic is now Lehman Catholic after merging with Holy Angels in 1970, but the athletic teams are still called the Cavaliers.
The only mascot name from the above image to change is that of Catholic Central. Now known as the Irish, or Fighting Irish, Catholic Central was once known as the Tornadoes. The school officially changed its mascot name to the Fighting Irish in 1977 but the decision wasn't entirely up to them. According to Catholic Central athletic director Dan Shay, The Springfield News-Sun, the town's main newspaper, had begun referring to the school that way because the last name's of so many school athletes were of Irish heritage.
Around that same time, Catholic Central joined an athletic conference. According to Shay, the story is that then-athletic director Russ Guenther was asked by the other athletic directors whether the school was known as the Tornadoes or the Fighting Irish. Guenther picked the Irish, and the rest is history.
Welcome to The Catholic Telegraph's edition of Throwback Thursday. Throwback Thursday is a weekly online activity wherein users of social media share an old photo or anecdote about times gone by. We plan to use Throwback Thursday to highlight the history of the Archdiocese of Cincinnati, and our publication.
Previous Throwback Thursdays
Archbishop Bernadin makes the Tribune
Sept. 11, 2001
Computers all the rage in 1983
English permitted in some rituals