Father Patrick Sheridan, retired priest, dead at 70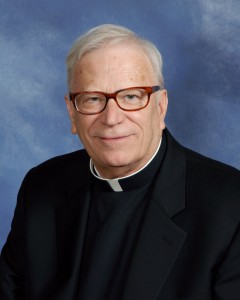 Father Patrick L. Sheridan, a late vocation to the priesthood and a retired pastor, died on Thursday, April 28. He was born on May 11, 1945 in Columbus, Ohio.
Father Sheridan received an A.B. degree from John Carroll University, Cleveland, in 1967. After a career as a Realtor, he received a Master's in Divinity from the Athenaeum of Ohio / Mount St. Mary's Seminary in Cincinnati and was ordained to the priesthood on May 16, 1998 at St. Peter in Chains Cathedral by Archbishop Daniel E. Pilarczyk.
Father Sheridan received his first assignment on June 27, 1998 as parochial vicar at Immaculate Heart of Mary Parish, Anderson Township. On July 2, 2001 he was appointed parochial vicar of St. Susanna Parish, Mason. Two years later, on July 7, 2003, he was appointed pastor of St. Patrick Parish, Bellefontaine. He was also parochial administrator of St. Mary of the Woods Parish, Russells Point, from July 2011 to July 2014. Father Sheridan was appointed to another six-year term as pastor of St. Patrick on July 1, 2015 but retired for health reasons effective December 31, 2015.
Reception of the body will take place at 4 p.m. Tuesday, May 3, at St. Patrick Church, Bellefontaine. Most Reverend Dennis M. Schnurr, Archbishop of Cincinnati, will preside at Mass of Christian Burial at 11 a.m. Wednesday, May 4, at St. Patrick. Burial will follow at Calvary Cemetery in Bellefontaine.