Helping Catholics on the Fringe Find Happiness
The Catholic Telegraph's Albano Launches New Book
Interview by Jessica Rinaudo
The Catholic Telegraph's own Dominick Albano has a book debuting this month, and, bit by bit, it's practically guaranteed to make you, and (perhaps even more importantly) any young people in your life who have fallen away from the Catholic faith, happy. Dominick and I sat down together to talk about The Fundamental Theory of Happiness: How to Find Your Purpose and be More Joyful, including its origins, its content and its purpose.
What sparked the book idea?
I was helping plan a college-aged conference with a friend. She started telling me about her sister-in-law, who was in her early 20s, co-habitating with her boyfriend, occasional drug use, that kind of thing. We were talking through the proposed conference programming and all the talk names were in Latin. It was clearly designed for highly-engaged Catholics. This wasn't something my friend could invite her sister-in-law to. The book came out of this idea of, "What could she give her sister-in-law to inspire her give Catholicism a second look?"
I wanted to write something that you could give to that person who is on the fringe, and they would actually read it.
When did the concept for the book first form?
The idea came after the Cubs won the World Series in October 2016. I remember someone said to me, "What's interesting is a Yankees fan probably doesn't feel as happy when the Yankees win the World Series as you do when the Cubs do. Even though it's the same thing that happened." And that's what really started me thinking about "happiness" as the main thrust for the book.
What am I going to find when I open the pages?
You're going to find a very human, realistic, practical exploration of all of our day-to-day struggles with happiness. If you talk to brand new parents and you say, "What's the dream for your child when they grow up?" They're all going to say happiness. Talk to a 70-year-old couple whose kids are all grown, and ask their dream for their adult children, they're going to say happiness. We all want to be happy. Most of the decisions we make are because we think they're going to make us happy
My book is all the practical human realities of "Why do I do things that I know will not make me happy and I do them anyways?" "Why do I struggle to do the things that I know will make me happy?"
It's about the masks we wear making other people think we're living this perfect life even though we're not. It's a very human dive into our shared common experience. And then we bring in neuroscience research and spirituality to compliment that.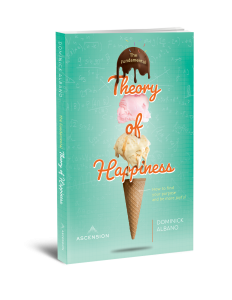 If I buy this book, who am I giving it to?
You're giving it to your fallen away son or daughter, grandson or granddaughter. They're between 18 and 30, and they don't know what they're doing. Maybe they got fired from their first job, or they're having trouble getting a job, or they're living in their parents' basement. They're very clearly struggling with happiness in a very real way. That's who this book is for.
Most of the time, you give them a book, they don't read it; they're not interested in it. If they do give it a shot because they love you so much that they'll read a chapter, they don't like it. It goes on the shelf.
I designed this book so that they'll open it and read one page. And the whole book is constructed that way – with the idea that the person who really needs the book doesn't want to read it and isn't inclined to pick it up.
What's inside?
It's very story-driven. Some stories in it are like a gut-punch that make you realize this stuff really matters. It's essentially broken up into seven parts, with anywhere from four to eight chapters in each part. It's something you can sit down and read for five minutes and feel like you got a lot out of it.
I throw in "check ins" to keep the readers engaged. These check-ins are like me throwing a piece of chalk at a student to make sure they're paying attention. The neuroscience asides are evidence-based research from reputable institutions about what's really going on with us neurologically about our response to happiness. And then there's theory in practice that can be done today. Ideas can be useless unless you can put them into practice.
What makes your book different?
I really think it's a book that any Catholic can read and get a lot out of, but it really has a chance to mpact the people we want to evangelize, that we want to minister to. It's built off of my fundamental ideas about evangelization, which are just different than a lot of people's because I don't lead with the hard stuff. I'm not a fire-and-brimstone kind of guy.
And I just believe if you're helping someone live a happier life, they're going to want to know what else you can help them with.
Ascension Press is the publisher of The Fundamental Theory of Happiness by Dominick Albano. You can purchase it at ascensionpress.com/happiness and Amazon.com.