Hunt for February: Coming back to the Catholic Church is as easy as following the light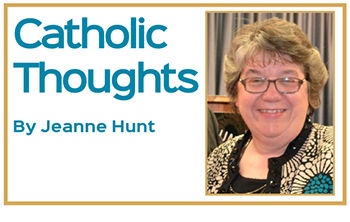 Have you ever heard the expression, "Once a Catholic always a Catholic?" All of us know someone who never goes to church but thinks of them self as Catholic. We received that gift of Catholic identity from our family and from God.
Baptism came to so many as infants. Through the years we attended Mass with our parents, went to Catholic schools and lived in a parish community full of Sunday Mass, summer festivals, sports teams, serving Mass, singing in choirs and so much more. These experiences are forever a part of our great memories of growing up Catholic.
And then, something happened. The break began with our new independence. We leave the family and head off to college, a new job, a new circle of friends and social life. There is no place in our lives for church and God sits quietly in the background. He still loves us, we know that, it is just that other things and people fill our days and there just isn't time to spend with God. I recently spoke with a young college student who left home for college in Houston, Texas. I asked if he was going to Sunday Mass. His response was surprising, "Oh no, there are no Catholic churches in Houston." I honestly believe that he was sincere. In his new and exciting collegiate world, there were no churches.
Becoming an inactive Catholic happens gradually. In the hectic world of work, family and obligations, we forget about Sunday Mass and God's place in our lives. Sunday has become another Saturday. We have two great days to catch up with ourselves. It is nothing against God or the parish down the road, we would just rather pray when we feel like it. We convince ourselves that God understands. God takes a back seat in our lives. Usually, at this point we start trying to find reasons for giving up on God: "the church has too many rules," "the church doesn't welcome everyone," "Mass is boring." But, we know in our bones that the real reason we do not come to God is that we have replaced Him with other things.
Not everyone slides down the slippery slope of apathy. For some there are good reasons to turn their back on the Catholic Church. An event in which we felt rejected or were treated unkindly by a priest or church community can fill us with anger and resentment. We may have done it to ourselves: An abortion, adultery, civil marriage outside the sacrament are few of the more common culprits. But, God never stopped loving us and wants only to restore our hearts to His heart. God has enough mercy and love to heal the ugliest wounds. In the words of St. Paul, " …nothing can come between us and the love of Christ made manifest in Jesus Christ" (Romans 8:31). Nothing means nothing. That means that the door of God's heart is wide open. He is waiting for us with more love and mercy than we can imagine.
At some point in our lives, we realize that something is missing. There is no peace. We are restless, unhappy, dissatisfied with all the thing we thought would make us happy. "Our hearts are restless until they rest in you" said a famous sinner, St Augustine. We wonder what happened to us. For some of us it these thoughts come when we have children. We want them to have a strong soul that can withstand the world's worst evil. Whatever the cause, we yearn to restore our relationship with God. We want to reconnect with the traditions, the values that we once knew as Catholics. We want to come home to church.
I have great news. It is so easy you will wonder what was stopping you. There is no long process, no forms, no hoops to jump through. There's just an open door at every Catholic church on Feb. 27. It is called "The Light is on for You." That evening all parishes will have caring and compassionate priests waiting to welcome you back through the sacrament of reconciliation (confession). Simply come to the priest and say, "I have been away from the church for a long time. Can you help me?" He will take it from there. Just like your Dad and Mom who waited for their child to come home with a light on at the door, God is doing the same thing.
---
At the Salesian Guild Dinner on Saturday, February 3, 2018, Jeanne Hunt was awarded the Communicator of the Year.