Infant's death leads to unique ministry for parents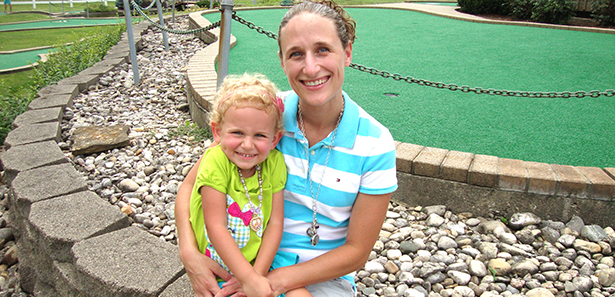 By Walt Schaefer
For The Catholic Telegraph 
The death of an infant has led to the birth of a ministry.
A birth normally prompts a family celebration but at times things go wrong. Some infants are stillborn, others survive less than a year because of congenital problems.
Ava Diehl was stillborn, caused by a placental issue. It happened last February. Ava's mother, Cathy Diehl, searched in vain for a dress appropriate for her daughter to wear at her burial at Gate of Heaven Cemetery in Montgomery. 
"I even looked at baby doll clothes and nothing was small enough…. Ava was one pound, 10 inches. All I had was a piece of fleece blanket I had made. I made baby blankets for friends and family and all I had was this scrap of material that was left over that had baby giraffes and things on it. I did not want another mother to go through what I did," Diehl said.
Shortly after the tragic ordeal, a friend from Texas messaged Diehl about a Texas initiative — the Neonatal Intensive Care Helping Hands Project. Michelle Matthews, who initiated that effort, creates "Angel Gowns" from donated wedding dresses. Similar projects exist in Washington State and North Dakota and a woman in Georgia makes such gowns in her home.
"There was nothing like it here in the Tri-State so I decided to start it," Diehl said. She recruited about 10 volunteer seamstresses in the Tri-State and two others in her hometown where she also intends to make Angel Blankets available to the hospital there.
Joann Neuman, of Mt. Adams, is among the volunteers. "This ministry is filling a need for grieving parents and I am honored to be a part of it," she said. "When these sweet babies die too early, they need something special from their parents before returning to their Father.  I am always so touched when someone gives me their cherished wedding gown to make these Angel Gowns. Each dress is carefully cut and designed with much love."
Neuman has made about 25 Angel Gowns to date and she has 13 wedding dresses at her home donated by women in support of the project. Each gown will make 12 to 25 Angel Gowns.
The goal of the ministry is a bit daunting. Generally, the gowns are made available to parents who lose their children from childbirth through the first year of life — normally those who never go home from the hospital.
"If someone wants a gown locally, I would hand-deliver it to the hospital. Eventually, I would like to have 20 to 50 gowns in hospitals — gowns of different sizes. I'm hoping to have gowns in every local hospital with a maternity ward that will allow me — University Hospital, Good Samaritan, the Kettering Medical Center. A nurse, Diehl works a day a week at the Kettering hospital. She and her husband, Kyle, have one child, Aubrey, 4, and they are expecting another. They live in West Chester.
Diehl said she also wants to make the gowns available to local pregnancy centers and funeral homes.
Plans call for the gowns to be packaged in see-through material in bags with a keepsake for the parents along with prayer cards and notes comforting the family.
Information about the ministry is available on its website: www.sewinghearts.org. Wedding gowns and other donations are needed, as are more volunteers.
This story originally appeared in the November 2015 print edition of The Catholic Telegraph.