Issue preview: November 2015 covers papal visit from local view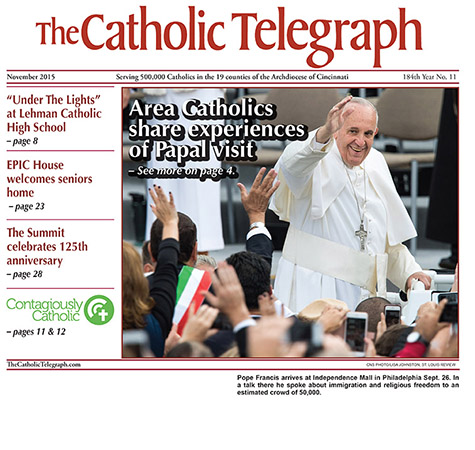 Staff Report
The Catholic Telegraph's coverage of Pope Francis' visit to the United States was extensive online with CNS news coverage, as well as correspondents in Philadelphia and Washington D.C. In the November print edition Ursuline Sister Eileen Connelly, News Editor of The Catholic Telegraph, has the scoop on how various members of the Archdiocese of Cincinnati community experienced the papal visit.
In the 32-page edition, there's also a story on Lehman Catholic High School, the smallest football-playing Catholic school in the archdiocese, essentially building a football stadium for one-night-only to celebrate their community.
A special vocations section has a Q&A with local priests on how they see their ministry after many years of service, stories on several religious sisters professing their vows, deacon milestones and a note about a Mass honoring jubilarians. There's also more jubilarians listed in this issue, thanking our religious for their many years of service.
A special senior section will tell readers about the EPIC (Elderly Persons in Community) house, the Ignatian Volunteer Corps and a unique WW2 artifact found at St. William.
That's just a glimpse of the many features found in the November 2015 print edition of The Catholic Telegraph, along with usual features like Everyday Evangelist and our regular lineup of columnists.
Many, but not all, of the stories from the November 2015 print edition will appear online over the course of the next month. To make sure you don't miss a single story, subscribe to the print edition HERE at no personal cost.
Posted Oct. 26, 2015