Journeys Revealed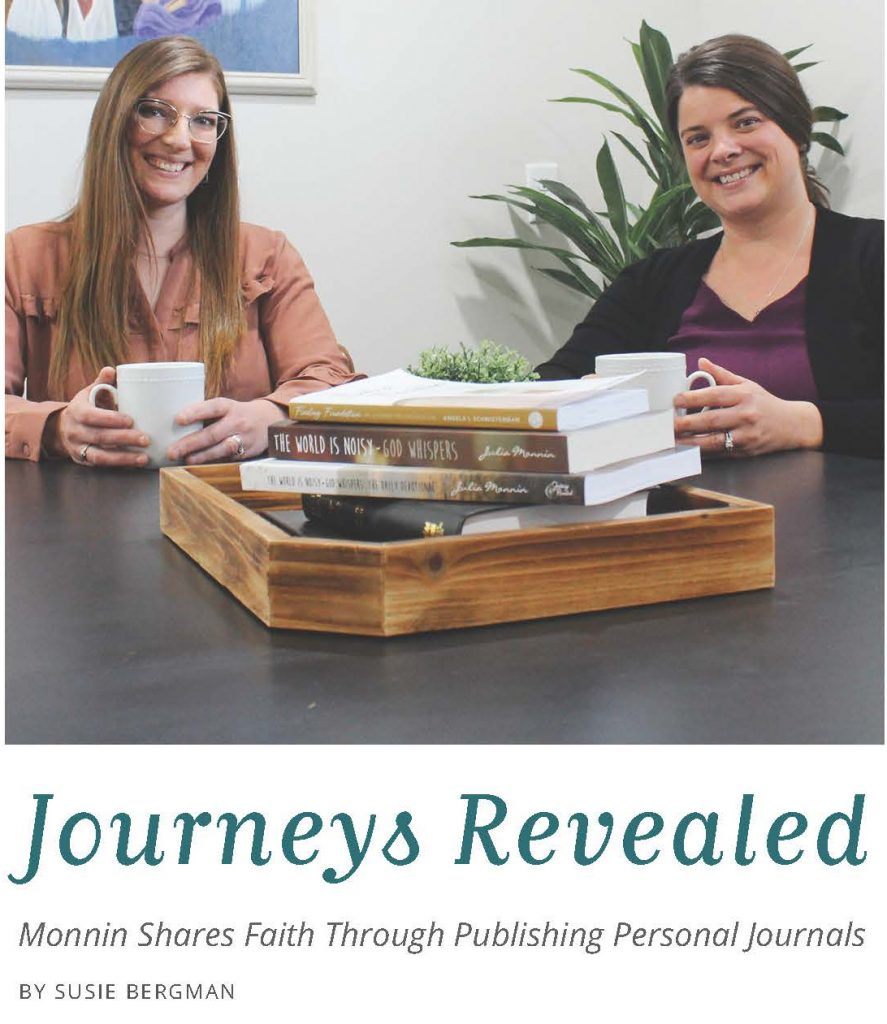 With humble, raw reverence and a hint of quiet confidence, Julia Monnin clutches her morning cup of coffee, prepared to share her journey. It's a journey full of self-doubt, personal reflection and grace. A journey that led to the publication of her first book and the eventual formation of Journeys Revealed Ministry, a non- profit organization located in Botkins.
"I know there are other souls like me out there. People with beautiful stories to share who are intimidated by the notion, the process and the industry."
Monnin knows first-hand just how intimidating it can be. After a year of prayerful discernment, she felt called to turn her spiritual journal, a collection of daily writings full of intimate life details, into a book. She was encouraged by advisors to keep the collection in journal form, inviting readers into her private thoughts and authentic self.
"I really, really thought that once I went through his very difficult process, there would be a mainstream Catholic publisher who would embrace it, and I would go back to my normal life. But that's not the way things went" Monnin said.
The publisher advised her that it wasn't the right fit for their audience. The response was devastating, but looking back, Monnin can appreciate the significance of the decision. As the reality set in, she spent the next few months working to reset herself through more prayer and discernment. She continued to seek advice from authors, publishers and those within her faith community. She knew self-publishing was an option, but she was concerned about making sure the book looked professional. Then, one day when she was deep in prayer, a powerful thought struck her: "If a manger is good enough for the Savior of the World to be born in, then certainly self-publishing is good enough for your book."
Through God's timing and grace, she took a leap of faith and reached out to a marketing professional who was on her parish counsel, Kecia Flaute. As they each share their unique, humble perspective on how their paths crossed and partnership blossomed, Flaute reflected "It was the first time I could really see God working in my life. I had felt for quite some time that God was calling me to use my talents to serve His Kingdom. So when I met Julia to learn more about her mission, it was like divine providence Towards the end of 2018, Monnin self-published her book, The World is Noisy, God Whispers, and she began doing local speaking engagements to share her personal testimony, with the hope of inspiring others to do the same. Knowing the goal of the mission was not about making money or being on the best-sellers list, Monnin and Flaute formed a non- profit to further drive the ministry to others. The formation of the board involved adding Laura Maurer as secretary and treasurer, and Father Sean Wilson as chaplain to the Board.
Under the holy guidance of their patron saints – St. Thérèse of Lisieux, St. Teresa of Avila, St. Anthony of Padua, St. Francis de Sales and St. Teresa of Calcutta – the team focuses on "spreading the love of Jesus by sharing the stories of our souls, one intimate moment at a time" through written word, spoken word and one-on-one companionship.
"We have realized that it may not be our calling to set the world on fire. Instead, we are focused on sharing the stories of those within our community, in the Land of the Cross- Tipped Churches. The people you see at church or at the grocery store, they have inspirational stories to tell," said Monnin. "Where we go from there is in His hands."
Through publishing personal journals, Journeys Revealed Ministries is shedding light on the beauty of God's work in the ordinary circumstances of our lives. You can help support their mission through prayer and by visiting journeysrevealed.com.
This article appeared in the July 2021 edition of The Catholic Telegraph Magazine. For your complimentary subscription, click here.