Knights of Columbus salute religious vocations
March 8, 2012
ARCHDIOCESE — The Greater Cincinnati Chapter of the Knights of Columbus held its biennial Salute to Religious Vocations dinner Feb. 9 in the undercroft of the Cathedral of St. Peter in Chains.
Priests, men and women religious, seminarians and deacons joined the Knights and their spouses for the meal and speakers' program. As the evening began, Supreme Knight Donald Beeber, who served as master of ceremonies for the event, said, "This is what it means to be truly Catholic — when we all work together.
Among the speakers was Father Kyle Schnippel, director of the archdiocesan Vocation Office, who thanked the Knights for their efforts and prayers. "Certainly your prayers are working and are vitally important to vocations," Father Schnippel said, noting that the archdiocese currently has 40 men in priestly formation, 25 at Mount St. Mary's Seminary of the West, 14 either at the Pontifical College Josephinum in Columbus or Bishop Simon Brute College Seminary in Indianapolis, and one at the Pontifical North American College in Rome. "Your prayers are needed so that young men and women are open to God's call and have to the courage to respond when they hear it."
Supreme Knight Lawrence Droesch, president of the Cincinnati Chapter of the Knights of Columbus, then thanked those in attendance for their dedication and "the spiritual leadership you provide for us."
He went on to present the Archbishop Nicholas T. Elko Award to Father Jamie Weber, pastor of St. Cecilia Parish in Oakley, who was recognized for his faith, enthusiasm and "love for his vocation and his parishioners that brings people back to the church and closer to God every day."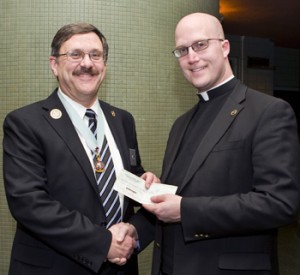 In accepting the award, Father Weber thanked his staff, parishioners and family members, many of whom were present at the dinner.
"People wonder how a vocation starts, and it starts with your family," he said. "My mom and dad always pointed out what was important in life. It was our faith. They were great witnesses of who to turn to in times of trouble: God."
During his remarks, Auxiliary Bishop Joseph Binzer spoke of his recent ad limina visit to Rome with Archbishop Dennis M. Schnurr and meeting with Pope Benedict XVI. He recalled that in the pope's homily during vespers on Feb. 2, "the Holy Father spoke of Catholics being a light for the world. The Knights of Columbus are a light for us at this time in the work that they do," Bishop Binzer said.