March edition of The Catholic Telegraph coming soon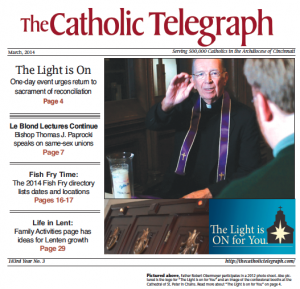 Staff Report
With a detailed explanation of the Archdiocese of Cincinnati's "The Light is ON For You" campaign, the famous annual Fish Fry listings, a photo recap of the March for Life and the usual mix of local news and commentary, the March print edition of The Catholic Telegraph will arrive in homes during the final week of February.
The cover story for March focuses on "The Light is ON For You." The one-day confession event sponsored by the archdiocese aims to have all parishes open for confession March 18. The two-page spread also features catechetical information about confession.
Smack in the middle of the paper readers will find the 2014 Fish Fry listings, promoting area parishes that host Fish Frys during Lent. That listing, as well as more detailed options including menu highlights, will also be available HERE.
Other stories include Annunciation school's celebration of its centennial, St. Gertrude hosting a pair of internationally known singers for a concert, a feature on a Bhutanese refugee, book review and more.
Columnist Father Kyle Schnippel, vocations director for the archdiocese, writes about confession, while columnist Michael Daley's "What Keeps Me Catholic?" discusses internet trolls. Jean Hunt's column is about the Mass and Father Earl Fernandes, dean of Mount St. Mary's Seminary, answers a question about the "Easter Duty" and confession.
Many of the stories from the March 2014 print edition will be made available online, but to ensure you don't miss out on any of the great stories included in the print edition of The Catholic Telegraph, click HERE to email circulation director Greg Hartman and subscribe. Subscriptions are provided at no cost to individual Catholics residing in the 19-county Archdiocese of Cincinnati.