Maria Stein Shrine to Host Prayer Service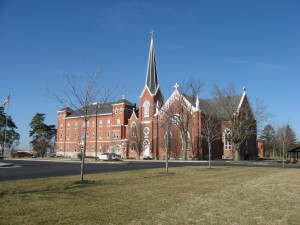 MARIA STEIN, Ohio– Prayer to ask the help of Saint Dymphna, the great patron saint of mental illness and epilepsy, will take place on Sunday, Jan. 22, in the Shrine Adoration Chapel at Maria Stein. The service begins at 2 p.m. It is open to all, especially those who have mental illness, doctors and nurses, and those who are concerned about and give care to those with mental illness.
The service will include prayer, song, testimonials and veneration of the relic of Saint Dymphna. Refreshments and a short social period will follow. The relic chapel will be accessible.
Saint Dymphna was a princess and martyr who lived in fear of her father who was an unstable man. It was by her faith and courage that she became a saint and an intercessor for those who suffer from neurological conditions. The service will allow those with seasonal and chronical depression, Alzheimer's disease, epilepsy, Parkinson's disease and others seeking support and spiritual strength to come and pray with and find fellowship in others who are in similar situations. Speakers at this event include Dr. Aaron Kuhn and Dr. Molly Helmlinger. Vernation of the relic of Saint Dymphna will conclude the service.
The Maria Stein Shrine of the Holy Relics was established in 1846 as the Sisters of the Precious Blood original motherhouse.
Mother Maria Anna Brunner founded the Sisters of the Precious Blood in 1834 in Switzerland. The congregation expanded to the United States in 1844 and eight Precious Blood Sisters began perpetual adoration at Maria Stein on Sept. 24, 1846. Father Francis de Sales Brunner, Maria Anna's son, established 10 major Precious Blood foundations in America.
The Maria Stein Shrine of the Holy Relics provides faith nourishment and spiritual renewal through opportunities for prayer and pilgrimage and inspiration from the lives of the saints. People from around the world visit the shrine to explore and enjoy this environment rich in holiness and history.
The Shrine is located at 2291 St. John's Rd. in Maria Stein. To learn more about the Maria Stein Shrine of the Holy Relics, visit www.mariasteinshrine.org