Missouri Catholic businessman to appeal judge's decision on HHS lawsuit
October 3, 2012
Catholic News Service
ST. LOUIS — A federal court ruling that rejected a Catholic St. Louis business owner's challenge to the federal mandate that employee health insurance cover contraceptives will be appealed to the 8th U.S. Circuit Court of Appeals.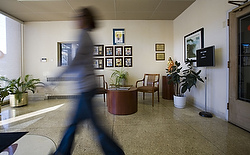 U.S. District Judge Carole Jackson Sept. 28 granted the Obama administration's motion to dismiss a lawsuit filed by Frank O'Brien, who sued the Department of Health and Human Services over a requirement that all employee health insurance plans include coverage for contraceptives, including some that can cause abortions, and sterilization.
The Washington-based American Center for Law and Justice, which represents O'Brien and his company, said Oct. 1 it would appeal Jackson's ruling.
O'Brien is chairman of O'Brien Industrial Holdings, a holding company that operates several businesses that explore, mine and process refractory and ceramic raw materials. The company has a Jan. 1 deadline to have a new health care policy for its 87 employees.
In dismissing the suit, Jackson wrote that being forced to pay for health insurance services contrary to an employer's religious beliefs is not a substantial burden on the employer's religious rights. The ruling addressed multiple legal arguments raised on First Amendment and other grounds by O'Brien and his attorneys.
Among them, Jackson said that as a secular company, O'Brien Industrial Holdings "by definition cannot 'exercise' a religion and therefore cannot assert claims under (the Religious Freedom Restoration Act) or the First Amendment Free Exercise clause." She noted that other courts also are considering the question of "can a corporation exercise religion?"
She ruled that despite the owner's strong and active Catholicism and his efforts to espouse Catholic values there, the company does not satisfy the definition of a "religious employer" that would exempt it from the coverage requirement.
The mandate's limited religious exemption applies only to those Catholic and other religious organizations that seek to inculcate their religious values and primarily employ and serve people of their own faith.
A member of St. Gerard Majella Parish in Kirkwood, O'Brien has said his religious beliefs provide the framework for the operation of his businesses. The company website notes that its mission "is to make our labor a pleasing offering to the Lord while enriching our families and society."
Employees who work at O'Brien Industrial Holdings pass by a statue of the Sacred Heart of Jesus in the corner of the lobby, placed there in 1992 by then-owner Nick Franchot.
Jackson also noted that the company doesn't qualify for an exemption for grandfathered plans, partly because the company's current health insurance plan covers contraceptives, though that was inadvertently, and against the owners' intentions, added to the coverage during a change from self-insurance to a fully insured plan several years ago.
She said there's nothing in the HHS requirement that prevents O'Brien from free exercise of his religion. She rejected the argument that O'Brien's religious rights are substantially burdened by the possibility that his funds "will contribute to a group health plan, (which) might, after a series of independent decisions by health care providers and patients covered by (the company's) plan, subsidize someone else's participation in an activity that is condemned by plaintiffs' religion.
"This court rejects the proposition that requiring indirect financial support of a practice, from which plaintiff himself abstains according to his religious principles, constitutes a substantial burden on plaintiff's religious exercise."
Jackson said the Religious Freedom Restoration Act, "is a shield, not a sword," and "does not protect against the slight burden on religious exercise that arises when one's money circuitously flows to support the conduct of other free-exercise-wielding individuals who hold religious beliefs that differ from one's own." She added that if the financial burden O'Brien complains about was substantial, "secular companies owned by individuals objecting on religious grounds to all modern medical care could no longer be required to provide health care to employees."
In an Oct. 1 post on the law firm's website, Francis Manion, senior legal counsel wrote: "The court saw no difference between paying the salary of an employee who might use that salary to go out and buy things the boss objects to, and having the boss buy the objectionable things directly and hand them to the employee."
Manion noted that cases that deal with the Constitution are rarely decided at the district court level.
"The losing side almost always appeals to the Circuit Court of Appeals and, after that, asks the U.S. Supreme Court to hear the case," said Manion. He said he expected the appeals court to hear the case "within a matter of months."