Mount Notre Dame Celebrates 160 Years

Mount Notre Dame High School (MND) enters this school year carrying on a 160-year "tradition of the quality education and growth," it's provided since it started as a boarding academy, said the school's president.
And though tradition is important to maintain and instill in the young women of Mount Notre Dame, school president Judy Gerwe said they also "continue to adapt in so many ways," including how the school has adapted to COVID-19. This includes the ability to grow "yet keep our feet planted firm and true to God in what we represent."
MND's theme for the 2020-21 school year is "A Place to be You," and school leaders say that embodies the essence of the 160-year-old all-girls Catholic high school.
Chris Gramke, school spokesperson, said MND does "an outstanding job" of living up to the school's tagline of "empowering young women."
"The amount of opportunities outside of the academic classroom that our ladies have – whether it's community service, extracurricular activities, clubs – is something that helps us with our theme of 'A Place to be You.' We feel like there's something here for everyone."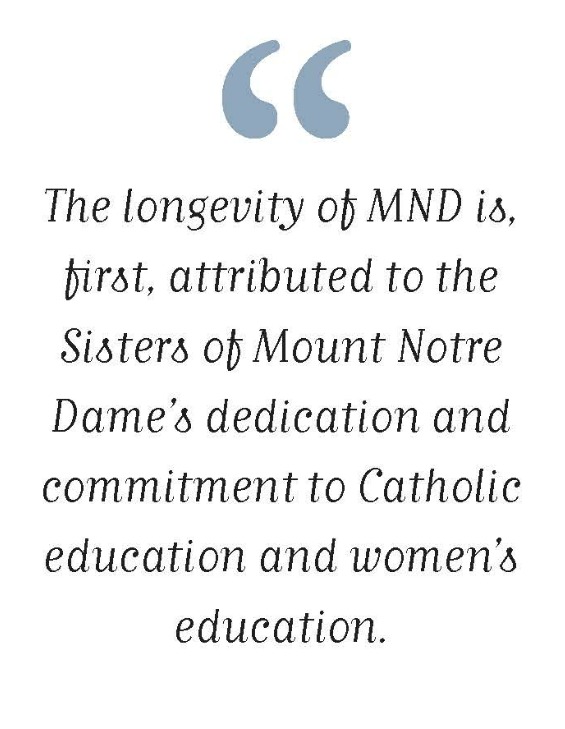 Mount Notre Dame, which is in the Cincinnati suburb of Reading, is one of five all-girls Catholic high schools in the Cincinnati region, and one of a dozen in Ohio. The school is also the largest in Cincinnati with 715 total students.
The high school is part of a network of more than 120 schools that are either owned or sponsored by the Sisters of Notre Dame, and Gerwe said they have a core set of values called the "Hallmarks of a Notre Dame Learning Community" that links them together.
Mount Notre Dame Academy opened on Sept. 17, 1860, as a boarding school, led by Sister Louise Van Der Shriek, SNDdeN.
MND became a high school in 1956 at the request of the Archdiocese of Cincinnati. The school dropped its "academy" title and became Mount Notre Dame High School. The first graduating class from the archdiocesan school took place during the school's 100th anniversary celebration in 1960.
The longevity of Mount Notre Dame is, first, attributed to the Sisters of Mount Notre Dame's dedication and commitment to Catholic education and women's education, Gerwe said.
"I think it shows that we're a reliable organization that has continued sustainability," she said of the 160th anniversary of the school's founding. "The women who graduate from here have made a huge impact on the city of Cincinnati and beyond."
There are more than 10,000 alumnae of MND High School, and many have had an enormous positive influence on the greater Cincinnati area and beyond. There are many who have committed to lives in the medical field and social outreach, and some chose religious life.
The Vatican recognized the school's most notable graduate, Sister Dorothy Stang, SNDdeN, as a modern-day martyr following her death in 2005.
After graduation in the late 1940s, Sister Stang spent her life as a champion of the poor, particularly in Brazil.
The future of MND is under construction now. The school just opened its new Learning Commons library and is planning to open a new Performing Arts Center in the spring. The public phase for the fundraising campaign is underway.
This article appeared in the December 2020 edition of The Catholic Telegraph Magazine. For your complimentary subscription, click here.