Nearly $19 million in scholarships to the Badin High School Class of 2017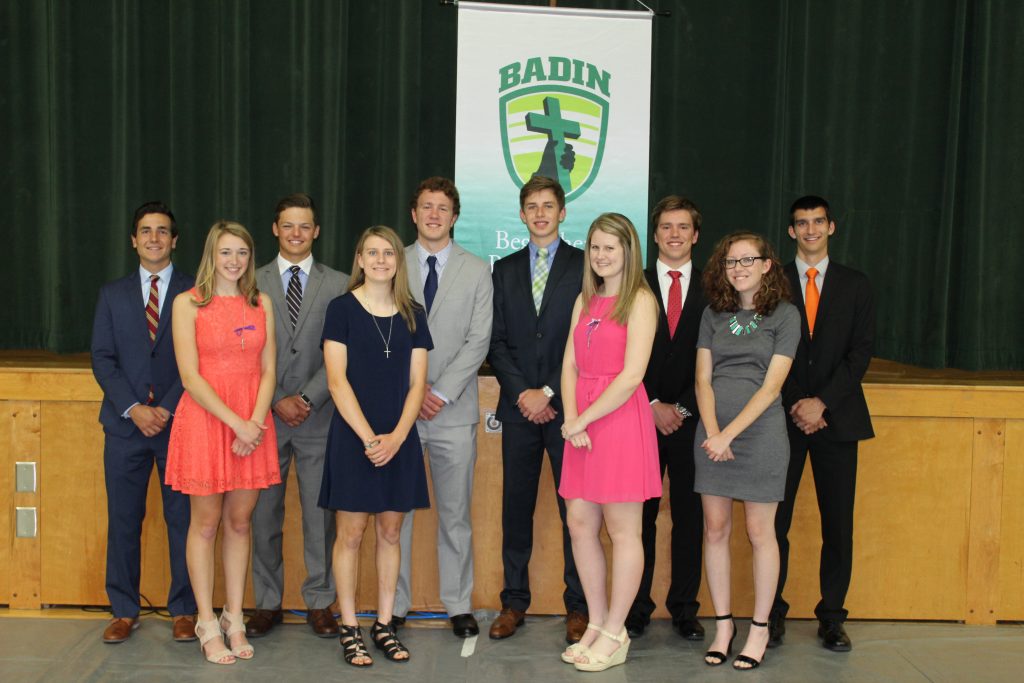 Badin High School's Class of 2017, celebrating the 50th anniversary of the school's opening in 1966-67, has amassed nearly $19 million in college academic scholarship offers.
"It's a measure of the opportunity a Badin High School education provides," said Principal Brian Pendergest as Badin hosted its 11th annual Academic Signing Day on Wednesday, May 24. "Our students have searched far and wide for scholarship dollars, have earned these offers through their hard work, and now will take advantage of them in their college experience."
The current total for the Class of 2017 is $18.8 million in college scholarship dollars, with more expected. That averages to more than $140,000 per student in the school's 51st graduating class.
Badin will graduate 133 students on Friday, June 2, at St. Maximilian Kolbe Church in Liberty Township. Of those, 55 students have earned more than $100,000 in academic scholarship offers for college.
"College is expensive, and our students put forth a lot of effort to find money to help offset those costs," said Angie Bucheit, a guidance counselor at Badin. "You want to deal with as little college debt as possible when you head into the real world, and our college-bound students certainly understand that."
Two students are co-valedictorians of the senior class.
David Berg is the son of David and Cecelia Berg and a graduate of Queen of Peace School. David will attend the University of Notre Dame and major in economics.
John Marot is the son of Pat and Mollie Marot and a graduate of Sacred Heart School. He will attend Miami University and major in finance.
"Our top students are an outstanding group," Pendergest said. "They will be attending nine different schools, with numerous areas of concentration. They are well-rounded, responsible and caring young people, and we know they will continue to be tremendous representatives of Badin High School."
Badin's Top 10 averaged a 4.31 grade point average, a 32.2 on the ACT, and earned a total of $4.4 million in college scholarship offers.
Other members of Badin's Top 10, with their college of choice, include: Kaitlyn Dick (Miami University), A.J. Ernst (Rose-Hulman Institute of Technology), Alexandra Hensley (Ohio State University), Laurel Pendergest (Xavier University), Nick Rand (Saint Louis University), Matthew Schweinefuss (Ohio Northern University), Maddie Smith (DePauw University) and Andrew Walsh (United States Naval Academy).
The 55 students who are members of the $100,000 Scholarship Club – meaning they have earned more than $100,000 in college scholarship offers — will be attending 26 schools in 11 different states and districts.
Those schools include:
Ohio (10) – Bowling Green State University, Miami University, Ohio Northern University, the Ohio State University, Ohio University, University of Cincinnati, University of Dayton, University of Toledo, Wilmington College, Xavier University
Indiana (5) – Ball State University, DePauw University, Rose-Hulman Institute of Technology, University of Notre Dame, Valparaiso University
Kentucky (3) – Bellarmine University, Northern Kentucky University, Thomas More College
Alabama – University of Alabama
Florida – Embry-Riddle Aeronautical University
Georgia – Berry College
Illinois – Illinois Institute of Technology
Maryland – United States Naval Academy
Missouri – Saint Louis University
South Carolina – University of South Carolina
Washington D.C. – American University
"When we began the Academic Signing 10 years ago, we wanted to recognize our seniors — but we also wanted to motivate the younger students to maximize their academic potential as well as their search for college opportunities," Bucheit said. "It's very rewarding to feel like we've accomplished that goal, and as importantly, that we continue to accomplish that goal."
Among the other highlights of the senior class: David Berg scored a perfect 36 on the ACT and is a National Merit Scholarship Finalist … Andrew Walsh was admitted to both the U.S. Naval Academy and the U.S. Military Academy at West Point, opting for the Naval Academy. … Karley Schlensker earned more than $1.9 million in academic college scholarship offers. She will attend Wilmington College … Nick Miller was a $100,000 Scholarship Club recipient, but he achieved his dream on Friday, May 19, when he enlisted in the U.S. Army.
As of today, 92 members of Badin's 2017 graduating class have received some college scholarship dollars, according to Bucheit. She and Brion Treadway direct Badin's counseling services.
Contact: Dirk Q. Allen, 863-3993, ext. 120, or e-mail [email protected]