New Xavier website offers educational, spiritual resources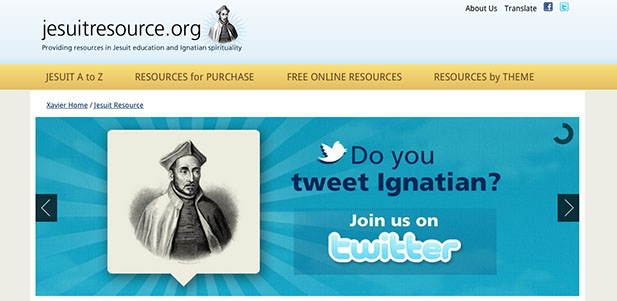 By Eileen Connelly, OSU
The Catholic Telegraph
Are you in need of a prayer to open a meeting, commemorate a holiday, or mark a special occasion, such asthe birth of a new baby? What about a summary of Pope Francis' encyclical Laudato Si', or the latest information about his upcoming U.S. visit? Perhaps you're a teacher looking for educational or inspirational prayer cards or posters to share in your classroom.
These and a variety of other resources are available at Jesuitresource.org, a repository of materials for Jesuit education and Ignatian spirituality gathered and developed by Xavier University faculty and staff. 
The website was born out of a need on campus for students and faculty to have easy access to Jesuit resources, and interest grew from there, explained Joe Shadle, director of XU's Center of Mission and Identity. While used by prospective and current XU students, along with university alumni, the site has also become a valuable resource to the general public for a variety of prayers,reflections, quotes, keynote addresses and other information on Jesuit spirituality and Catholicism.
The site is easy to navigate, with resources grouped alphabetically. It has been viewed by people in 200 countries, Shadle said. Shadle oversees the site, but it is managed by students, and he credits them for their efforts to keep resources current and easily accessible.
"Our goal is to provide resources that everyone can use and help people better appreciate our Jesuit Catholic heritage," he said.A number of resources are available for purchase, and others are available in viewable online format for free. For more information, click HERE.
This article originally appeared in the August 2015 print edition of The Catholic Telegraph.