Nun vs. nun? Two convents' CDs vie for spot atop Billboard charts
By Mark Pattison Catholic News Service
WASHINGTON (CNS) — It's not exactly the Beatles vs. the Rolling Stones, but just as those two bands shook up the pop charts nearly a half-century ago, two convents' CDs are vying for a spot atop the Billboard classical music charts.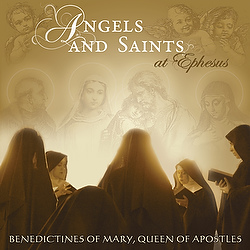 The defending champion, for 13 weeks straight, is "Angels and Saints at Ephesus," performed by the Benedictines of Mary, Queen of Apostles, a cloistered convent in Missouri. Their streak marks the first time since 2006 that a CD has stayed at the top of Billboard magazine's classical traditional music chart.
So far, it has kept its competition at arms' length, including a new CD by Andrea Bocelli and soundtracks based on the TV miniseries "Downtown Abbey" and the fiction best-seller "Fifty Shades of Grey."
But now comes the Dominican Sisters of Mary, Mother of the Eucharist, based in Ann Arbor, Mich., whose first CD, "Mater Eucharistae," was released Aug. 13. This isn't the Dominican convent's first brush with the mass media. Members of the order made it to the finals in the latest season of "American Bible Challenge."
"We heard it was No. 8 on the classical charts, and that was just in pre-sales," said Sister Joseph Andrew, vicaress general of the order, in an Aug. 12 telephone interview with Catholic News Service from the order's motherhouse.
Both CDs are using the same public relations firm to tout the releases. Both CDs are on the same label: De Montfort, a classical imprint of Decca, itself part of the gigantic Universal Music Group which is home to such labels as A&M, Motown, Island, Geffen, Interscope, Def Jam, Capitol, Virgin, Blue Note, MCA, Mercury, Verve, Polydor, EMI and London.
Monica Fitzgibbons, De Montfort co-founder, couldn't be more pleased.
In an Aug. 7 statement about the Benedictines' CD, she said, "To have this accomplishment come from a group of monastic sisters is simply miraculous. The collection of music is soothing hearts and enabling contemplative moments. Simply a joy and honor to behold!"
Fitzgibbons also doubles as talent scout. The Dominicans conduct public vespers on Sunday afternoons wherever their sisters are stationed, explained Sister Joseph Andrew. "Monica and (husband) Kevin Fitzgibbons went to our vespers in Phoenix one time. They heard our prayers and they became very interested in pursuing the possibility of making this (CD). We prayed over this and we decided that we would do it."
Recording the 15 tracks took just three days in March at the motherhouse. "And on the second day, the middle day, the Holy Spirit ordained that Pope Francis would be elected," Sister Joseph Andrew recalled. "We were singing the Te Deum and recording the Te Deum when someone said, 'White smoke!', and we went off running. It was an interesting three days."
With their numbers growing — 110 sisters currently, 20 women entering the convent at the end of August, and more than three times as many invitations to send sisters to schools and dioceses worldwide as there are sisters — the Dominicans are raising funds to build a priory in Austin, Texas, to house 100 women.
CD royalties will go toward the building campaign, Sister Joseph Andrew said. Will "Mater Eucharistae" knock off "Angeles and Saints at Ephesus"? Could it reach the heights of "Chant," the 1994 CD by the Benedictine Monks of Santo Domingo do Silos, which peaked at No. 3 on the Billboard pop chart, selling 3 million copies in the United States and another 3 million worldwide, with royalties putting a big dent in construction costs? "That would be a miracle come true, for sure," Sister Joseph Andrew said. "Who knows? But no matter what, our primary goal in doing this is bringing people closer to God."
And as for some competition with the Missouri Benedictines, "It's really not competition," Sister Joseph Andrew said. "It's just trying to get Christ into homes."