Obituary: Sister Mary Milano, SNDdeN
Cincinnati OH – August 16, 2019 – Sister of Notre Dame de Namur Mary Milano (formerly Carmen Therese), died July 21, 2019 in Cincinnati, OH, at the age of 87. A native of Chicago, IL, she recently celebrated her 70th year of religious life.
Sister Mary enjoyed teaching. For 21 years, she taught every elementary grade between 2 and 8, and served as principal at schools in IL, OH and AZ. In the Archdiocese of Cincinnati, she served at St. Michael in Sharonville and St. Agnes in Dayton. In northern IL, she served at St. Alexander in Villa Park, St. Robert Bellarmine in Chicago, St. Victor in Calumet City and St. Rita in Rockford.
While studying in Rome, Sister Mary had the privilege of attending the canonization of St. Julie Billiart in 1969. She also learned of the Sisters' new mission in Kenya and went there to teach at a secondary school for girls in Maragoli for 5 years.
After training in spiritual direction, she became novice director then spiritual and retreat director for 26 years. Sister Mary was known for the 150+ prayer shawls she knitted, her welcoming smile and listening presence.
Memorials on behalf of Sister Mary may be made to the Retirement Fund of the Sisters of Notre Dame, 701 E. Columbia Avenue, Cincinnati OH 45215.
Assignments Included:
1952-1953 St. Michael Parish School, Sharonville, OH
1953-1954 St. Alexander Parish School, Villa Park, IL
1954-1958 St. Robert Bellarmine Parish School, Chicago, IL
1958-1961 St. Eugene Parish School, Detroit, MI
1961-1963 St. Agnes Parish School, Dayton, OH
1963-1966 St. Victor Parish School, Calumet City, IL
1966-1967 St. Joseph Academy, Columbus, OH
1967-1968 Our Lady of Perpetual Help Parish School, Glendale, AZ
1968-1969 SNDdeN Generalate, Rome, Italy
1969-1971 St. Christopher Parish School, Columbus, OH
1971-1976 Maragoli Girls School, Hambale, Kenya
1976-1979 St. Rita Parish School, Rockford, IL
1979-1980 Institute for Spiritual Leadership, Loyola University, Chicago, IL
1980-1981 Youth Retreat Ministry, Christian Brothers Spiritual Center, Adamstown, MD
1981-1988 Novice Director, Spiritual Direction and Retreat Work, Columbus OH & Cincinnati, OH
1988-1992 Spiritual Direction, Retreat Work, Coordinator of Programs at Mt. Notre Dame, Cincinnati, OH
1992-2006 Spiritual Direction, Retreat Work, Clerical Assistant at Province Offices, Cincinnati, OH
2007- 2019: Volunteer Clerical Assistant, Province Offices, Mount Notre Dame, Reading, OH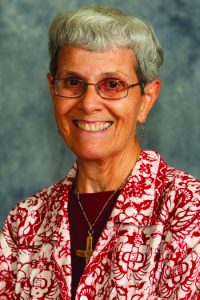 About the Sisters of Notre Dame de Namur
The Sisters of Notre Dame de Namur are an international congregation founded in Amiens, France in 1804. In 2015, we celebrated our 175th year in the U.S., and our role in helping to shape the Catholic education system in the United States. Today, more than 1,300 Sisters of Notre Dame serve across the U.S. and in Belgium, Brazil, Democratic Republic of Congo, France, Great Britain, Haiti, Italy, Japan, Kenya, Nicaragua, Nigeria, Peru, South Africa, South Sudan and Zimbabwe.
Sisters of Notre Dame de Namur change lives by making known God's goodness. Throughout the world, they are committed to education and take a stand with poor people, especially women and children in the most abandoned places.