Scoutmaster puts faith into practice in variety of ways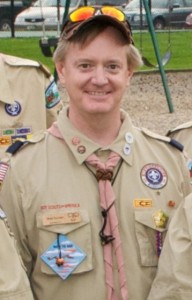 By Walt Schaefer
For The Catholic Telegraph
About a decade ago, Bradley Duncan was in church with his family when his infant son, Gabriel, started crying.
"I was out in the lobby of the church during Mass that day trying to quiet him down and I saw a poster on the wall talking about the Lay Pastoral Ministry Program at the Athenaeum of Ohio.  I had been asking myself, since I'm a convert, a lot of questions I had (about my faith). If I didn't know the answers to them, how was I going to help raise my children in the Catholic faith? So I figured I needed more education myself," said Duncan, 51, a faculty member in University of Dayton's School of Engineering and executive director of graduate academic affairs since 2011.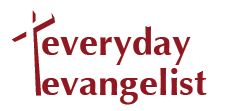 "I took the phone number from the poster that was hanging on the wall and it stayed on my desk for a long time. I eventually called Lay Pastoral Ministry; one thing led to another and that's how I got  involved. That's what led me down the path," he said.
Today, Gabriel is 12. Duncan and his wife, Rosa, have two other children: Maria, 10, and Catie, six. And, Duncan said he has been able to guide his children in the faith and answer the questions they ask.
"I'm a Boy Scout leader and was a Cub Scout leader. There are some religious scouting emblems Cub Scouts can earn. I remember working on one called the Light of Christ. It required us to go to church and look at all of the signs of our faith there and talk about them. It was at Incarnation (Parish in Centerville). I used what I was able to learn from Father Larry Tensing in liturgy class at the Athenaeum and it helped me (teach the scouts). I remember my two oldest were preparing for first communion. I was able to help them understand what confession is all about, and what it's not about; what the Eucharist means and what it does and why we practice these things."
Duncan is a scoutmaster for an inter-faith Boy Scout troop chartered by the South Minster Presbyterian Church in Centerville.
"As scoutmaster at our local scout troop, where my son is, one of the things I'm really proud about is it is one of very few faith-based youth organizations and I help lead interfaith services in the Boy Scout programs," Duncan said. "When boys moved through the ranks, they have to have a scoutmaster conference and part of that is they come to me. I ask them about matters of faith because duty to God is still part of our oath and reverence is part of Scout Law."
Scouting is not the sole area where Duncan visibly practices his faith.
At UD (University of Dayton), I am one of about 40 of us who have gone through some specialized training making a public commitment to serving the university in what we call Marianist Educational Associates. The university was founded by the Society of Mary. With the decline in the number of priests and brothers and religious sisters on campus, who is going to carry the torch into the future?  There are some of us who are raising our hands. We've gone through some specialized training an when it's all done we make a public commitment in the context of the university to help keep it alive for the next generation," Duncan said.
Duncan came to UD in 1991 and, "it was only then that I discovered UD was a Catholic university. I started asking all kinds of questions and getting pieces and parts and an understanding" of the faith and the Marianist educational philosophy.
"Fast-forward to the 2000s, when I first started hearing some of the early rumors of this thing called the Marianist Educational Association. The first two cohorts were handpicked, mostly from the upper administration.  Then they opened it up to the faculty. I don't remember how exactly I became aware of it, but a dean pointed it out to me. There's an application process you have to go through. I applied; I was interviewed, and selected. I have no idea how many people applied that year. In some years there may be 40 or 50 apply," Duncan said.
"Our overarching goal is to keep the Marian charisma alive and well at the university for future generations when priests and religious are not here to represent the Society of Mary as totally as we would like them to be. We are partners with the Society of Mary in their mission within higher education. It's to maintain the tradition of Marianist education.
These days, Duncan and his wife are busy raising their three children in the faith and he has had to drop some church community service he loves. He intends to return to that volunteer work when time permits.
"I was really active in community service," Duncan said. "We spent time at the St. Vincent De Paul  homeless shelter. In the back of my head, I've got to get back involved but right now I'm focused on other things. In the past, I worked with Rebuilding Together Dayton and was either captain or co-captain on a couple of building rehabilitation projects."
This Everyday Evangelist feature originally appeared in the April 2015 print edition of The Catholic Telegraph.