Seek: The Christian joy is palpable, attendee says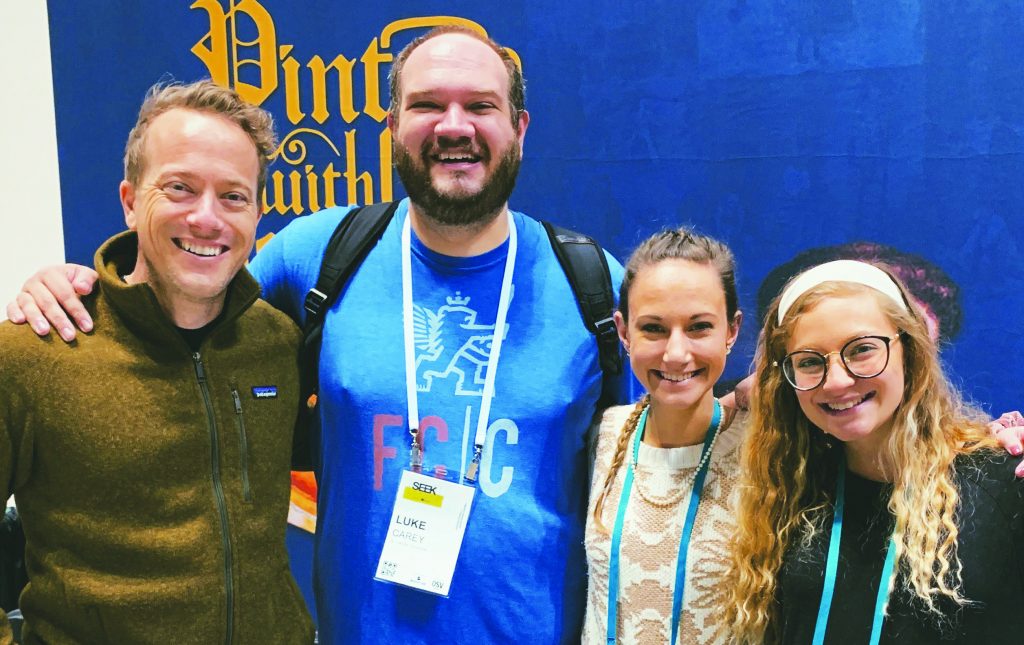 INDIANAPOLIS (CNS) — Priests who serve as college chaplains or campus ministers do not have an easy load to tote. These days, that role is likely just one of their many duties.
But the event left many, including representatives from Cincinnati, with the feeling that something very positive was happening.
"With the priest shortage, it's difficult to have priests to be there on campus," said Father Rick Nagel, pastor of St. John the Evangelist Parish and chaplain at Indiana University-Purdue University Indianapolis, best known as IUPUI. The campuses are both in the heart of the capital city.
This reality is true for Father John Hollowell. In addition to serving as chaplain for DePauw University in Greencastle, he also is pastor of St. Paul the Apostle Parish there and Annunciation Parish in Brazil, as well as chaplain of Putnamville Correctional Facility. Dominican Father Patrick Hyde also can relate. He is associate pastor of St. Paul Catholic Center in Bloomington and head of the parish's campus ministry serving the students of Indiana University.
But the three priests share one powerful source of help: Fellowship of Catholic University Students, or FOCUS.
Luke Carey, director of the Office for Young Adult Evangelization and Disciple-ship, attended SEEK, the group's biennial conference, representing the Archdiocese of Cincinnati in early January.
"Jesus is moving. There's no better evidence of this than SEEK. The power of SEEK isn't found in the speakers, or even FOCUS, the organization that puts on SEEK," Carey said.
"The power of SEEK is in encountering the living God. God is everywhere at SEEK. Obviously, He's there in the sacraments and in adoration, but what makes SEEK so great, is the community. Seventeen hundred college students and young adults coming together because of Jesus Christ and His Church," Carey said. "It's incredible. The Christian joy is palpable."
"It has a profound impact," Father Nagel said of the five-day experience. "I've never heard anyone say it didn't make a difference in their life."
With the support of the late Indianapolis Archbishop Daniel M. Buechlein, FOCUS and its lay ministers came to the IUPUI campus in 2009. The organization and its "multiplication of discipleship" concept now also serves at DePauw, and just started serving at IU two years ago. With its thousands of participants more than 17,000 at SEEK 2019 in Indianapolis Jan. 3-7 — students get "a sense of the universal church not just with the other students but also the hundreds of priests, religious and bishops," Father Nagel told "The Criterion," newspaper of the Indianapolis Archdiocese.
This year, the bishops in attendance were primarily from other countries, as the U.S. bishops took a week for prayer at Mundelein Seminary in Chicago. Witnessing the myriad men and women religious, many in traditional habits, is not the only impressive sight at a SEEK conference. "When you're in a room with 17,000 college students that are all in adoration or all in Mass, and are really into it, I think that's something that blows people's minds in a good way," said Father Hollowell.
"Certainly a lot of (college students) are falling away in frightening numbers, but it almost makes the faith of those who stay and those who are coming back seem even more powerful."
Father Nagel has attended four SEEK conferences before and witnessed their impact.
"Sometimes there can be a 'mountain top' experience with a retreat, but then they re-enter the world, and the effects wane over time," he said.
"But SEEK 'disciples' students so they have real, tangible takeaways, like ways to pray or a particular way to live your life. It enhances our ministry and allows us to build on that when they go back on campus."
SEEK — which FOCUS "describes as an experience rather than a conference," Father Hollowell said — also serves as a way for chaplains and campus ministers to connect with their students.
"One of the best things for me to be here is that we have about 97 people here from Bloomington," said Father Hyde. "It's really beautiful to see students I recognize but don't know, because that's a sign that something good is happening, that maybe people who were on the fringe are going a step deeper. And that's just cool to see."
Father Hollowell was at SEEK with the DePauw students he serves.
"I try be with the students as much as I can here," he said. "We've had lunch and dinner. I've gone to several talks with them. There are a lot of great questions and discussions. It's a great opportunity for me to be with them and have conversations, to interact with them outside of my formal role."
While Father Nagel noted that the majority of SEEK participants are univer-sity students, he said it reaches a broader audience as well.
"A year ago, they began a lifelong mission track (of sessions and speakers) for non-students," he said. "Last year there were about 1,000 who participated in that, and it's grown this year (to 1,700). We have about 50 non-students from the parish going."
FOCUS also welcomes non-Catholics to the conference. Father Hollowell's group included "a few non-Catholics and one person going through RCIA," which is the Rite of Christian Initiation for Adults.
SEEK offers a special track for the chaplains and campus ministers as well.
Father Hyde said he looks forward to witnessing SEEK's effects on the students he ministers to. "I've heard people have been blown away by the talks and the atmosphere," he said. "It's going to be really interesting to see a diverse response to what God does this week in their lives."
This story originated with the Catholic News Service.