Service, faith, academics, activities: Meet Seton Graduate Faith Breedon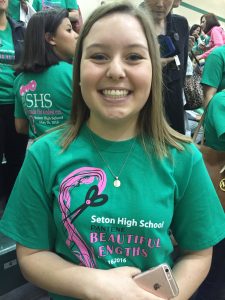 When Faith Breedon was just seven years old, her newborn baby sister, Gabrielle Joy, passed away. It was an experience that shaped both Breedon's faith and her career goals.
The recent Seton grad, whose mother, Crystal, also attended the high school, along with various other female relatives, said, "It was always my dream to go there. I felt welcomed just walking the halls."
During her four years at Seton, "Faith has been very much a servant leader," said Jan Linz, director of campus ministry. She has served as a student ambassador, representing Seton at school open houses and community events, was a Kairos leader for the senior class, and has been involved with campus ministry throughout her high school years. Most recently, she served as chaplain, organizing morning prayer each day for the Seton community. Her dedication to service has led to a nomination for an award from the Mayerson Foundation.
"I've always been taught to put others first and to think of their needs before my own," Breedon explained. "There's just something special about seeing the joy on someone's face when you been able to help them or made a difference in their life."
Her Catholic faith, furthered deepened at Seton, "has always been important to me and helped me through some tough times," she said, so when it came time for the college search, there was no question that Breedon would continue her education at a Catholic institution.
As she toured the University of Dayton campus, Breedon felt at home and realized it's where she wanted to be. "I turned to my mother and said, 'I love it here,'" she recalled.
Breedon will be a pre-med major at UD and hopes to eventually work in pediatrics. Although she was too young at the time to understand her baby sister's life threatening medical conditions, Breedon later developed a strong interest in medicine and science, as well as a love for working with children.
Outside of school, she's been a longtime volunteer at the Cincinnati zoo, working as a teacher's aide and in programs dedicated to educating children. While she loves the animals. Breedon said, "I'm in it for the kids."
She leaves Seton feeling well prepared for the future. "I feel like I've developed relationships, not just with the other students, but with my teachers, that have given me confidence and taught me how to act professionally. I know this will carry over into college and whatever I do."