Sister of Mercy heads archdiocesan Tribunal with skill, faith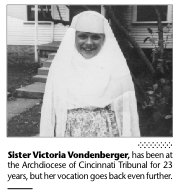 By Dan Andriacco
For The Catholic Telegraph 
Sister of Mercy Victoria Vondenberger, director of the archdiocesan Tribunal, grew up as the oldest child in her family, with four brothers and no sisters. "When I entered the community my brother Dan was in the first grade and told his friends that Mom and Dad only gave me brothers, so I went to the convent to have some sisters," she recalled.
It wasn't a sudden decision. As a second grade student at St. Mary School in Piqua, Sister Victoria told her parents that she was going to enter the convent someday. That day came on Sept. 8, 1963.
"It is hard to believe I have been a Sister of Mercy for 50 years already," she said.
After receiving a master's degree in secondary education at Xavier University, Sister Victoria devoted many years to high school teaching and administration at various high schools.
A computerized form from the Sisters of Mercy about her interests got her to thinking and praying about an option she had never previously considered: canon law.
"The archdiocese agreed to pay for my studies provided I and the community agreed I would work at the Cincinnati Tribunal for at least three years," she said. "This is my 23rd year here."
In 1990, she completed a JCL (Juris Canonici Licentiate) in canon law from St. Paul University in Ottawa and a master's in Canon Law from the University of Ottawa. She began working at the Tribunal and the following year became its director, responsible for hiring, firing, budget, organization, etc.
The Tribunal is an official church court, which handles mostly marriage cases. A Tribunal may also handle penalty cases for church crimes.
"In church terms, I work as Defender of the Bond and Promoter of Justice," Sister Victoria said. "For every marriage case there are one to three Judges and a Defender of the Bond whose task it is to argue reasons why the marriage should be considered valid if there are any such reasons. Sometimes a Defender has to say, 'There is evidence to support the proposed reason for nullity so I remit the decision to the justice of the Court,' offering no reasons why this marriage should be considered valid."
According to Sister Victoria, the Promoter of Justice is involved in penalty trials, such as when a priest or deacon might be accused of embezzling funds from a parish or sexual abuse of a minor. The Promoter will then bring the accusations at the direction of the archbishop, similar to a prosecuting attorney in a civil court."
"However, a big difference in church proceedings is that every official of the tribunal is sworn to work for the truth, not for any side in a case," she said. "If the Promoter of Justice discovers there are no good reasons to suspect the cleric is guilty of the alleged canonical crime, the Promoter would move to end the trial.
"If advocates named by an accused cleric or a party to a marriage case learns that the person for whom they are working is not being truthful they are obligated to reveal that and not try to defend the person. Legal maneuverings have no place in canonical trials where the objective of every official is truth and justice."
In each case where a marriage is declared null, the case by law go toes an appeal court, called a Second Instance. Cincinnati is First Instance for the people of this archdiocese and Second Instance for cases from the Diocese of Cleveland. Archdiocese of Cincinnati cases go to Washington, D.C., for Second Instance.
"In 1968, the year I graduated from college, there were only 388 cases in the whole of the United States," Sister Victoria said. "In 1988, the year I began to study canon law, there were over 38,000 cases in the United States. The change was due to most U.S. dioceses having working and sufficiently staffed tribunals as well as the changes in law that came after Vatican II especially including psychological reasons why a marriage might be declared null."