Sisters of Charity welcome two novices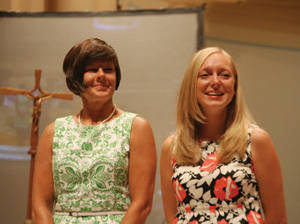 Staff Report
Members of the Sisters of Charity welcomed Andrea Koverman and Tracy Kemme into the canonical novitiate during a ceremony June 26 in the Immaculate Conception Chapel at the Mount St. Joseph Motherhouse.
Sister Andrea grew up in Centerville in St. Francis of Assisi Parish. She graduated from Archbishop Alter High School and majored in special education through Miami University. Following graduation, she moved to Beaufort, S.C., to begin 20-plus years teaching in the coastal island communities. She holds two master's degrees, one in curriculum and another in administration.
Sister Tracy grew up in Fairfield in St. John Neumann Parish and graduated from Roger Bacon High School. She earned her bachelor's degree in psychology and Spanish from UD. She served two years with the Rostro de Cristo volunteer program in Ecuador and one year as an associate in volunteer ministry with Sisters of Charity.
Both Sisters Tracy and Andrea have lived in SC community for two years, most recently as affiliates. Tracy ministered at the Santo Niño Project in Anapra, Mexico, and also as a volunteer with the St. Vincent de Paul Society at Sacred Heart, El Paso, Texas.
Local woman to profess final vows as Marianist sister
DAYTON — On Aug. 3, Sister Nicole Trajan, 38, will profess her perpetual vows as a Marianist Sister.
A native of Orange, Texas, Sister Nicole began her teaching career serving as a volunteer through the Volunteers for Education and Social Services, an AmeriCorps program. It was because of her volunteer work that she decided to pursue two master's degrees in Catholic school leadership and pastoral university, at St. Mary's University, Marianist institution in San Antonio.
Sister Nicole professed first vows in June 2008. Since then she has lived in Dayton where she served as a campus minister at the University of Dayton for three years. Currently, she teaches sophomore religion at Chaminade Julienne Catholic High School and serves as the national director of vocations for the Marianist sisters.