St. Ursula faculty member uses pope's resignation as teachable moment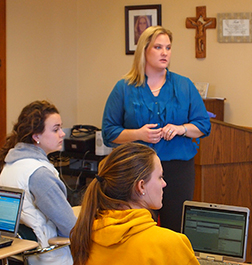 By Eileen Connelly, OSU
The Catholic Telegraph
When Lisa Caito woke to the news of Pope Benedict XVI's resignation on Feb. 11, her reaction was similar to that of many Catholics — a mixture of surprise, sadness and gratitude for the pontiff's years of faithful service to the church.
A religion teacher at St. Ursula Academy, Caito was also excited about the educational opportunity the historic announcement offered for her students.
"It happens so rarely that we experience a conclave," she said. "The girls had so many questions today. It really has been exciting for them."
Caito, who teaches both sophomores and seniors, had her students review the pontiff's statement and said they "picked up on how humble and prayerful" he is about the decision.
Caito was a young teacher ministering in Indianapolis when Pope John Paul II passed away and the Catholic Church last experienced the election of a new pope. She feels the forthcoming events will be especially significant for the sophomores who recently studied church history.
The seniors she teaches were impressed by a television interview of Cardinal Timothy Dolan, president of the United States Conference of Catholic Bishops, they watched and then discussed during class.
"Cardinal Dolan's reaction was so genuine. It really impressed the girls," she said. "They were so young the last time we elected a pope, that this is very significant for them. I reminded them of the importance of paying attention to things now because they are the church."
Because her students are so curious about what the future holds, Caito said she also cautioned them on where to search for additional information and news about Pope Benedict XVI and the papal conclave. She referred them to the Vatican's website and told them, "we'll go through this together and find the answers to any questions they have."
Caito said she was particularly impressed by the observation of one senior who said the example of faith the pope has demonstrated through his decision has caused her to do an examination of conscience and recognize what God is calling all of us to – accepting his will for us.
More on Pope Benedict XVI's resignation:
Citing health, Pope to resign
Cincinnati Archbishop Dennis M. Schnurr releases statement on papal resignation
CNS Video: See the pope announce his resignation
Women religious respond to news of pope's resignation