St. Vincent de Paul Society celebrates 150th anniversary in Cincinnati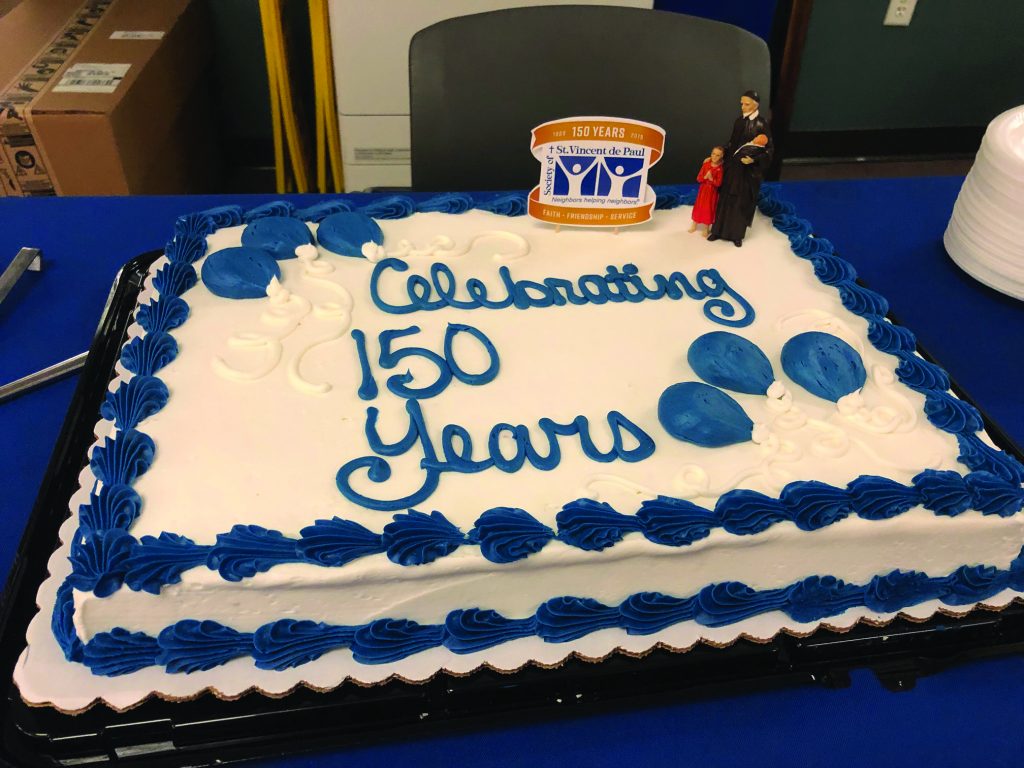 The St. Vincent de Paul Society celebrated its 150th anniversary on March 26.
When the doors opened as they always do at 8 a.m., and society neighbors began to come in for assistance, the lobby of the Liz Carter Outreach Center was decorated with balloons, and they were asked to join in celebrating the last 150 years.
Prayers were offered, and cake, juice and a pancake breakfast were provided. Later that morning, a Mass for staff was held at St. Joseph Church in the West End.
"Our focus for the last 150 years has been on our neighbors, and we wanted to make sure our celebration included them," St. Vincent de Paul Cincinnati Executive Director Mike Dunn said.
"The organization has evolved and gone through a lot of changes in the last 150 years, but the one thing that hasn't changed is our compassion for and desire to help our neighbors in need here in Cincinnati."
On March 26, 1869, in a small room in the St. Clare Convent on Third Street, the Society of St. Vincent de Paul in Cincinnati was formed. And for the last 150 years, the Society has been helping Cincinnatians in need with food, clothing, rent and utility assistance, medication and a lot more.
While the day marked the exact date of the founding 150 years ago, the recognition of the anniversary is a yearlong effort, with a variety of events planned throughout the remainder of the year, including the grand opening of the new Don and Phyllis Neyer Outreach Center that is currently under construction and slated for completion this fall.
The new center will allow St. Vincent de Paul to operate more efficiently and effectively by offering all of its services simultaneously, Dunn said. Currently the Carl and Edyth Lindner Choice Food Pantry can't operate on the same days as the charitable pharmacy because of space constraints.
The charitable pharmacy, which provides more than $10 million in free prescription medicine to Society neighbors each year, is one of the newer services that St. Vincent de Paul offers. Through the course of the last 150 years, Dunn said, the organization has added and subtracted a variety of services, including an employment program, a Big Brother program and juvenile court probation of-ficers. The organization's original "Salvage Shops" evolved into the seven thrift stores that now operate around the region.
"What has been consistent through the last 150 years has been the focus on making home visits to better learn about our neighbors and their needs, and to provide them with the best services," Dunn said. Vincentian volunteers made 7,225 home visits last year.